Thousands of US Marines poured into Afghanistan's southern Helmand province this week to take the battle against the Taliban to the foe's stronghold. But in a startling departure from decades of US anti-drug policy, eradicating Helmand's massive opium poppy crop will not be part of their larger mission.
US envoy to Pakistan and Afghanistan Richard Holbrooke told members of the G-8 group of industrialized nations Saturday that attempting to quash the opium and heroin trade through eradication was counterproductive and bad policy. Instead, the US would concentrate on alternative development, security, and targeting drug labs and traffickers.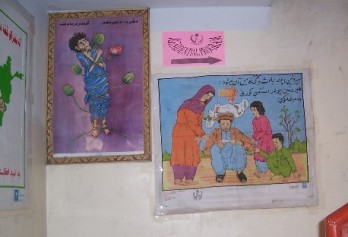 "Eradication is a waste of money," Holbrooke told the
Associated Press
during a break in the G-8 foreign ministers meeting on Afghanistan. "The Western policies against the opium crop, the poppy crop, have been a failure. It might destroy some acreage, but it didn't reduce the amount of money the Taliban got by one dollar. It just helped the Taliban, so we're going to phase out eradication," he said.
"The farmers are not our enemy; they're just growing a crop to make a living. It's the drug system," Holbrooke continued. "So the US policy was driving people into the hands of the Taliban."
The Taliban insurgents are estimated to earn tens or even hundreds of millions of dollars a year from the opium and heroin trade, which generates multiple streams of income for them. Taliban commanders tax poppy farmers in areas under their control, provide security for drug convoys, and sell opium and heroin through smuggling networks that reach around the globe.
As late as last year, US policymakers supported intensifying eradication efforts, with some even arguing for the aerial spraying of herbicides, as has been done with limited success, but severe political and environmental consequences in Colombia. That notion was opposed by the Afghan government of President Hamid Karzai, as well as by the US's NATO partners, particularly Britain, which supports expanded manual eradication of the poppy fields.
On Sunday, Afghan counternarcotics minister General Khodaidad disputed Holbrooke's claims that eradication was a failure, telling the Canadian Press that Afghanistan had achieved "lots of success" with its anti-drug strategy, which relies heavily on manual eradication of poppy fields. Still, he said he was open to the new American strategy. "Whatever program or strategy would be to the benefit of Afghanistan, we welcome it," Khodaidad said. "We are happy with our policy... so I'm not seeing any pause or what do you call it, deficiency, in our strategy. Our strategy's perfect. Our strategy's good."
Britain and US are at odds over opium field eradication plans. According to the London newspaper The Independent, British officials said Sunday they would continue to fund manual eradication in areas under their control. Those officials downplayed any dispute, however, saying details remained to be worked out.
But eradication has met with extremely limited success. According to the UN Office on Crime and Drugs, eradication peaked in 2003, while the Taliban were in retreat, with more than 51,000 acres destroyed. By 2007, that figure had declined to 47,000 acres, and last year, it was a measly 13,500 acres. Similarly, a survey of villages that had participated in eradication last year found that nearly half of them were growing poppy again this year.
The shift in US policy drew praise from observers across the ideological spectrum. It also aroused speculation that it could be emulated elsewhere, particularly in Latin America.
"The new counternarcotics strategy in Afghanistan which scales down eradication and emphasizes rural development and interdiction is exactly right," said Vanda Felbab-Brown, a drugs, development, and security expert with the Brookings Institution. "Under the prevailing conditions in Afghanistan, eradication has been not only ineffective; it has been counterproductive because it strengthens the bond between the rural population dependent on the illicit economy and the Taliban. Backing away from counterproductive eradication is not only a right analysis, it is also a courageous break on the part of the Obama administration with decades of failed counternarcotics strategy worldwide that centers on premature and unsustainable eradication," she added.
"This is clearly a positive, pragmatic step," said Ethan Nadelmann, executive director of the Drug Policy Alliance. "It seems that the Obama administration is so deeply invested in succeeding in Afghanistan that they're actually willing to pursue a pragmatic drug policy. This is an intelligent move," he added. "It is an implicit recognition that you are not going to eradicate opium production in this world so long as there is a market for it. Given that Afghanistan is the dominant opium producer right now, the pragmatic strategy is to figure out how to manage that production rather than to pursue a politically destructive and ineffective crop eradication strategy."
"This administration is finally showing some pragmatism," said Malou Innocent, a foreign policy analyst for the libertarian-leaning Cato Institute. "We are beginning to understand that our policies are affecting the policy outcomes we want. We didn't see this under the previous administration, so this is definitely very promising," she added.
But it doesn't necessarily mean there is light at the end of the tunnel, she was quick to add. "Sadly, this doesn't make me more optimistic about our prospects," she said. "This will win us more hearts and minds on the ground, but it also has to be linked to fewer targeted killings, fewer airstrikes that generate civilian casualties, or any good will is likely to be canceled out," she said.
Similarly, Felbab-Brown cautioned that the Obama administration must be prepared to defend the shift at home. "It is imperative that the administration lay down the political groundwork and inform Congress, the public, and the international community that it is unlikely that the new policy will result in a substantial reduction of cultivation or of the dependence on the illegal economy any time soon since rural development is a long-term process dependent on security," she said. "Setting the right expectations now is necessary so that accomplishments of the new strategy in two or three years are not interpreted as failures since the numbers of hectares cultivated with poppy has not dramatically decreased."
Nadelmann suggested that the new strategy is not likely to significantly impact the drug trade. "With the alternative measures they're proposing, such as the focus on traffickers, there's not much reason to think it will have any significant impact on Afghan opium and heroin exports, but it will enable the US, NATO, and the Afghan government to pursue a more discriminating and productive strategy, at least at the political level," he said.
"The really potentially interesting implication of this is for Latin America," said Nadelmann. "It makes one wonder if the Obama administration might come to realize that the same strategy they are pursuing for opium in Afghanistan makes sense in Latin America for coca cultivation in the Andes."
That may be premature. With analysts predicting no decrease in the poppy crop and little impact on the drug trade, in the medium term, the only political selling point for the move away from eradication will be success in defeating or significantly weakening the Taliban insurgency. That will be a difficult task, one whose success is by no means guaranteed.