A jury in Lincoln, Nebraska, found a local man not guilty of selling salvia divinorum Monday. Although the psychedelic member of the mint family is not a controlled substance in Nebraska, creative thinkers in the Lincoln Police Department arrested shop owner Christian Firoz under a little used law against selling a substance for the purpose of inducing intoxication.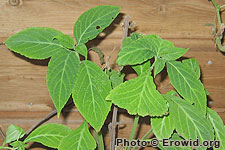 Police seized about eight ounces of salvia in a raid after an undercover agent purchased some there. Firoz admitted selling the herb, which produces a powerful but short-lived hallucinogenic effect. But his lawyer argued that the state had failed to show it was a dangerous narcotic, and the jury agreed.
By this time next year, though, police anywhere in Nebraska may be able to arrest people on salvia possession or sales charges. The day after Firoz was acquitted, the Nebraska legislature voted 44-0 to advance a bill, LB 123, making salvia a Schedule I controlled substance. Under the bill, salvia would be classified along with heroin, LSD, and marijuana as substances with no medical use and a high potential for abuse.
Salvia is not known to produce fatal overdoses, nor has it been shown to be addictive. In fact, for most users, the high is so overwhelming that they only use it once or twice. Salvia use has been linked -- but only indirectly -- to two deaths, that of a Delaware teenager who killed himself some time after using salvia and that of an Ohio teenager who was slain by a friend who had previously used salvia, but was not under the immediate influence.
But that didn't stop the Nebraska bill's sponsor, Sen. Russ Karpisek (R-Wilbur) from declaring that the legislature had to save Nebraska's corn-fed youth by sending them to prison for possessing a plant. "Please, think about our children when you think about this one. It's another gateway drug. I think that it will entice people to use the drug and see what it's like. Scary thought to me," said Karpisek.
Nebraska isn't alone in seeing efforts to ban salvia this year. Also on Tuesday, the Maryland House Judiciary Committee held a hearing on HB 8, which would make salvia a Schedule I controlled substance in the Terrapin state. A similar bill has been filed in the state Senate. South Dakota legislators filed a bill, HB 1090 last week that would do the same, and declares the salvia threat so dire as to require emergency status, meaning the bill, if passed, would go into effect in 90 days. A Texas legislator has filed another salvia ban bill, HB 126, while another Texas bill, SB 257, would restrict its sale to minors.
That's what California did last year, although most of the dozen or so states that have moved against salvia have simply banned it for everyone. California's example is the correct response, said the Drug Policy Alliance Network's DC and Maryland office.
"We are very concerned about youth drug use, including the use of salvia, but by outlawing and prohibiting it legislators will make the problem even worse," said Naomi Long, DPAN's DC and Maryland Project director. "We can curb youth access to salvia by enacting age controls and placement restrictions similar to our strategies to reduce teenage smoking. We didn't have to criminalize tobacco or create prison sentences to achieve success. Criminalizing drugs makes it easier for young people to obtain them because the underground market doesn't check an ID to see if someone's an adult."
For salvia fans and civil libertarians, the one good sign in all this is that opposition is starting to appear. Not only did foes of criminalizing salvia make an appearance in Annapolis, they also objected in Lincoln. Opposition hasn't stopped any salvia bans yet, but at least it is finally showing up.