A year and a half ago, word started spreading from isolated law enforcement sources that candy-flavored methamphetamine was showing up in drug busts. Seeing a new, candy-flavored drug bogeyman just around the corner and an opportunity to look tough on drugs, Sens. Diane Feinstein (D-CA) and Charles Grassley (R-IA) quickly responded with the Saving Kids From Dangerous Drugs Act, which would increase the penalties for dealers peddling flavored meth to any buyers to match those for dealers who actually sold drugs to kids.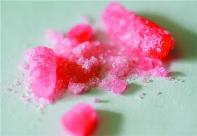 That bill went nowhere in 2007 or last year, and the candy-flavored meth story was quickly debunked by, among others, Join Together's Bob Curley, who penned
Meth Ado About Nothing?
in June 2007, and the urban myth web site
Snopes.com
, which addressed the issue at about the same time. Both articles suggested authorities may have mistakenly attributed flavors to meth that was merely colored.
Despite horrified warnings from different law enforcement sources and hysterical reporting by various local media outlets around the country, nobody ever seemed able to actually come up with any candy-flavored meth, let alone any nefarious schemes to entice kids with sweetened drugs in an effort to crack the pre-pubescent meth market. Still, the threat of candy-flavored meth continues to surface periodically, although not for the past few months. Most recently, the (false) alarm was sounded in Florida in February and Southwest Virginia in March.
The lack of evidence for any real problem with candy-flavored meth hasn't stopped the drug-fightin' senatorial duo, though. In a Monday press release, Grassley announced that he and Feinstein were reintroducing the Saving Kids From Dangerous Drugs Act. It was as if the debunking of the myth had never occurred.
"The candy-flavored meth bill comes after reports detailing the growing trend of candy-flavored meth," the press release breathlessly, if belatedly, warned. "According to law enforcement officers and drug treatment officials, methamphetamine and other illegal drugs are being colored, packaged and flavored in ways designed to attract children and minors."
"It's disturbing that drug dealers are trying to lure teens and young kids by flavoring drugs to taste like candy. This latest craze needs to be dealt with before it's too late," Grassley said. "We've also got to make sure our law enforcement has the tools they need to adequately enforce the laws we pass. The legislation that Senator Feinstein and I have introduced should make drug dealers think twice about selling candy flavored drugs to our kids and help law enforcement keep the Combat Meth Act effective."
Under federal law, anyone who sells drugs to someone under 21 faces a mandatory minimum one-year prison sentence and a sentencing enhancement that doubles the sentence, or triples it for a repeat offense. Under the Feinstein-Grassley bill, the same penalty would also apply to anyone who "manufactures, creates, distributes, or possesses with intent to distribute a controlled substance that is flavored, colored, packaged or otherwise altered in a way that is designed to make it more appealing to a person under 21 years of age, or who attempts or conspires to do so."
In addition to addressing a problem that doesn't exist, the bill is written so vaguely as to apply to all kinds of illicit drug packaging. Would an ecstasy tablet stamped with a cartoon image qualify? How about heroin packaged under cute names? How about marijuana in a baggie with a smiley face sticker? For answers, you will have to consult your local federal prosecutor. Or, if there is any sense in Washington, this bill will meet the same ignominious fate as its predecessor and be assigned to the dustbin of history.