The Drug Enforcement Administration (DEA) raided a medical marijuana dispensary in South Lake Tahoe, California, Thursday, marking the first dispensary raid during the brand new Obama administration. On the campaign trail, candidate Obama said repeatedly he would end such raids.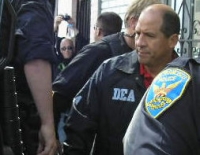 Neither the DEA nor the Obama administration had commented on the raid by Thursday evening. With the Obama administration mere days in office, many high-ranking Bush officials are still on the job, including acting DEA administrator Michele Leonhart, who has been responsible for numerous federal raids in California. The Obama administration has yet to name a new DEA head or permanent drug czar (head of the
Office of National Drug Control Policy
), and attorney general nominee Eric Holder is still undergoing congressional vetting.
"Whether or not this unconscionable raid on a medical marijuana provider is the fault of federal officials from the previous administration, President Obama has an opportunity to change this harmful and outdated policy," said Caren Woodson, director of government affairs for Americans for Safe Access, the leading national medical marijuana advocacy organization. "We are hopeful that these are the last remnants of the Bush regime and that President Obama will quickly develop a more compassionate policy toward our most vulnerable citizens."
During the Bush years, the DEA raided more than a hundred California dispensaries, sometimes merely seizing their medicine and cash, sometimes prosecuting their operators and sending them to federal prison. But the DEA has also gone after a medical marijuana organization in Washington state that supplied starter plants for its members, used a federal grand jury in Oregon to obtain patient records, and even threatened New Mexico officials planning to implement that state's medical marijuana distribution program.
In Thursday's raid, DEA agents hit the Holistic Solutions dispensary in South Lake Tahoe, seizing cash and medical marijuana. They made no arrests.
"President Obama must rise to the occasion by quickly correcting this problem and by keeping the promise he made to the voters of this country," said Woodson, citing Obama's repeated campaign pledges.