Salvia divinorum will become a Schedule I controlled substance in Ohio 90 days from Wednesday. That's the day Gov. Ted Strickland (D) signed a bill banning the plant that passed the legislature late last year. It is unclear how salvia possession defendants will be charged, but a fifth degree felony, the least serious in Ohio, merits a jail sentence of up to a year.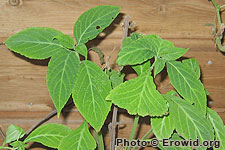 Ohio now joins at least nine other states that have banned the use, possession, or distribution of salvia. In California, minors are barred from possessing the plant or its extracts.
Although used for centuries by Masatec shamans in the Mexican state of Oaxaca, salvia has in recent years become popular among recreational drug users here. Smoking extracts of the plants causes a powerful, disorienting, five-to-10 minute hallucinogenic experience.
Young people posting videos on YouTube of themselves under the influence of salvia have aroused anxious parents, politicians, and policemen across the land, who, seeing someone get high, can only come up with a reflex response to ban the new "threat." But salvia is not addictive and has not been linked to overdose deaths.
In Ohio, the sponsor of the ban bill, former state Rep. Thom Collier (R), seized on the killing of a Loudonville boy by a friend who had earlier used salvia. But even Collier has admitted there is no evidence the salvia use was directly involved in the killing.