The World Chess Federation, better known by its French acronym FIDE, has gotten itself into a controversy over drug testing. FIDE instituted its anti-doping program in a so far futile attempt to gain chess entrance into the Olympic Games, but now, with its threat to order a two-year suspension for Ukrainian Grandmaster Vassily Ivanchuk, the federation is facing rebellion and ridicule in the ranks.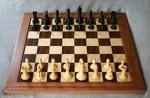 Players had already ridiculed the drug testing policy and criticized the quest to gain Olympic status as misguided, but the looming Ivanchuk suspension is bringing matters to a head. Ivanchuk, the third-ranked player in the world and a very popular figure in the game, failed to take a mandatory drug test after he lost a crucial game at the Chess Olympiad in Dresden, Germany, in November. Instead of completing the drug test, an angry and distraught Ivanchuk left the building and was later seen stomping around and kicking posts outside.
"Can we believe such news?" Latvian-born Spanish Grandmaster Alexei Shirov, once a challenger for the world title, wrote in an open letter on the Ivanchuk case in December. "A player who has been at the very top for more than 20 years... gets banned simply because he wanted to calm down after a lost game?"
Another prominent player, German veteran Robert Hübner, one of the best players in the West during the 1970s and 1980s, refuses to participate in FIDE events to protest the drug testing policy.
The Ivanchuk affair is a case of "bureaucracy gone haywire," Washington, DC, tournament organizer Michael Atkins told the Washington Times this week. "Enhancing physical performance for athletes obviously needs testing, but I don't think anyone has ever shown that there are mental performance-enhancing illegal drugs that would improve play over the board to the degree that it affects results," he said. "Having to become a chess cop would drive me away from tournaments quickly. It really isn't worth it to do this just to get in the Olympics."
FIDE's anti-doping regulations are based on those of the World Anti-Doping Association, the body that governs drug testing in Olympic sports. The association's list of prohibited substances includes not only steroids, stimulants, gene doping and other "performance enhancing" substances, but also all illicit drugs, including marijuana, LSD, and heroin.
This isn't the first time FIDE has stirred controversy in the ranks over anti-doping policies. In the 2004 Chess Olympiad on the Spanish island of Mallorca, officials forfeited two lower ranking players after they objected random drug tests after their match. But Ivanchuk is a much more prominent and well-liked player, and that's giving the federation pause.
FIDE officials have postponed announcing a final decision on the mandatory two-year ban. Instead, a "doping hearing panel" will review the case in the next couple of months and make a decision. In the meantime, Ivanchuk is still playing tournament chess, and FIDE is a laughing stock for its members.