After more than five years of examination, the Drug Enforcement Administration (DEA) has yet to find that salvia divinorum is dangerous or addictive enough to merit placement as a scheduled drug under the Controlled Substances Act, but that isn't stopping legislators across the land from moving to criminalize it or restrict its sales despite the lack of any real evidence that it does anything more than take its users on a psychedelic journey of a no more than a few minutes duration.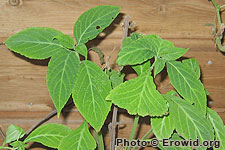 Since the plant was first banned in Delaware in 2004, a handful of states each year have made efforts to prohibit the increasingly popular psychedelic. This year, the trickle is turning into a tide despite a rising chorus of opposition from scientists, researchers, public health experts, and people who believe they should be able to control their own consciousness.
The Nebraska legislature voted 44-0 last Friday to add salvia and its active ingredient, Salvinorin A, to Schedule I of its controlled substance list, the same as LSD and psychedelic mushrooms. The state of Nebraska is going to save its youth from themselves by sending them to prison for up to five years for having some leaf or extract, and up to 20 years for selling it.
The man behind the campaign to ban the plant, Attorney General Jon Bruning, pronounced himself satisfied. "I'm pleased with the legislature's vote today to ban salvia," Bruning said. "I think it is important that salvia not be allowed to be used by members of the public."
Nebraska's northern neighbor, South Dakota, is on the verge of doing the same. A bill pronouncing the salvia "threat" an emergency easily passed the House two weeks ago and a Senate committee this week. Under the emergency legislation, a ban would go into effect immediately upon the governor's signature of the bill.
And the Kentucky House Tuesday voted 99-0 to make it illegal to possess, buy, sell, or cultivate salvia. The sponsor of that bill, Rep. Will Coursey (R-Benton) told his colleagues the plant was a safety risk.
Meanwhile, similar bills have been filed or proposed in Iowa, Maryland, Michigan, Minnesota, New Jersey, North Carolina, Ohio, Pennsylvania, South Carolina, and Texas.
Thirteen states -- Delaware, Florida, Illinois, Kansas, Mississippi, Missouri, Nebraska, North Dakota, Oklahoma, and Virginia -- have classified salvia as Schedule I under state drug laws. Three more -- Louisiana, Maine, and Tennessee -- restrict the sale of the plant. Maine and California ban it only for minors.