The New Jersey Compassionate Use Medical Marijuana Act (S119) passed the state Senate Monday on a 22-16 vote. Gov. Jon Corzine (D) said Wednesday he would "absolutely" sign the bill, but it must first get through the Assembly, where it faces votes in the health committee and by the Assembly as a whole.
The day was also notable for what happened right after the bill passed. Senate President Richard Codey (D-Essex), a well-known jokester, pretended to answer a phone on the podium, then yelled out to bill sponsor Sen. Nick Scutari (D-Linden): "Excuse me, Sen. Scutari, I just what you to know that was congratulating you, and it was from Michael Phelps," to groans and embarrassed laughter from the chamber, which, not surprisingly, contained several seriously ill medical marijuana patients but no college-aged bong-hitters.
And that could be a sign of changing times, too. The joke went over like a lead balloon, a local TV station made an evening news feature of Codey's joke and the unamused reactions of medical marijuana patients and supporters, and the Asbury Park Press even editorialized that Codey should apologize for his "tasteless gag." The days of cheap laughs from comparing seriously, even terminally ill patients with Cheech & Chong may be coming to an end.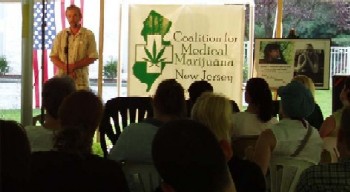 Under the bill, there would be no penalties for the possession, use and cultivation of a small amount of marijuana when a licensed physician recommends it for a patient with a debilitating medical condition. Qualifying medical conditions include chronic pain, cancer, AIDS, multiple sclerosis, and Crohn's disease. Patients would be issued ID cards in a program run by the New Jersey Department of Health and Senior Services (DHSS) and permitted to grow up to six plants and possess one ounce of marijuana, or have a registered caregiver grow it for them.
"The bill is very conservative," said Ken Wolski, executive director of the Coalition for Medical Marijuana-New Jersey. "No medical marijuana state has a smaller plant limit or possession amount. Still, it will help a tremendous number of patients here. We applaud the senators who supported this bill."
Still, bill sponsor Sen. Nick Scutari (D-Linden) was understandably proud. "If medical marijuana can ease some of the suffering of a patient who's dying from a chronic, severe or terminal disease, state government should not stand in the way of that relief," Scutari said after the vote.
"For the sake of our most vulnerable, our sick and dying patients struggling for relief, now is the time for New Jersey to join the growing list of states allowing compassionate use of medical marijuana," said Roseanne Scotti of the Drug Policy Alliance New Jersey office.
On Wednesday, Gov. Corzine reiterated his previously articulated support for medical marijuana legislation. Appearing on WNYC radio's "Brian Lehrer Show," he responded to a question about whether he would sign this bill by saying "absolutely."
Now, it's on to the state Assembly. If the bill makes it to the governor's desk, New Jersey would become the 14th medical marijuana state, joining Alaska, California, Colorado, Hawaii, Maine, Michigan, Montana, Nevada, New Mexico, Oregon, Rhode Island, Vermont, and Washington.