Uniformed cops, jail guards, narcs, and assistant police chiefs -- all gone bad this week. Let's get to it: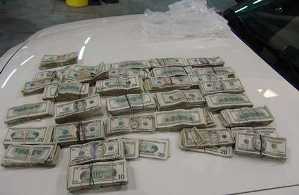 In Otisville, New York,
an NYPD officer was arrested last Friday
for allegedly laundering money for her boyfriend's drug trafficking operation. Officer Yaniris Balbuena, an eight-year NYPD veteran, is charged with one count of conspiracy to commit money laundering for receiving thousands of dollars in drug proceeds from her boyfriend, "a known narcotics trafficker in the Bronx." She deposited over $230,000 in cash in nine bank accounts she controlled. She's now looking at up to 20 years in federal prison.
In Bowling Green, Kentucky, two assistant police chiefs were indicted by a federal grand jury February 5 on prescription drug charges. They were also accused of threatening a witness. Assistant Chiefs Johnny Lee Travis, 41, and Maxie Christopher Murphy, both of Glasgow, Kentucky, are accused of illegally possessing hydrocodone between February 2004 and January 2008, and intimidating and threatening a witness between November 2007 and June 2008. They're looking at up to 21 years in prison each.
In Albany, Georgia, a Dougherty County narc was arrested February 11 on sexual assault charges. Dougherty County police officer David Gilliam, 41, a member of the Albany Dougherty Drug Unit, faces counts of sexual battery, false imprisonment, and violation of oath of office for allegedly trying to rape a 26-year-old woman while he worked an off-duty security job at the hotel where she was staying. Gilliam worked for the department since October 2005 and spent the last two years on the dope squad. He was fired the same day he was arrested.
In Fall River, Massachusetts, a Bristol County jail guard was arrested February 11 for allegedly smuggling drugs into the county prison. Marco Moniz is charged with conspiracy to violate drug laws and delivering contraband to a penal institution.
In Indianapolis, a former Indianapolis Metro Police officer pleaded guilty last Friday to running a marijuana distribution ring. Former officer James Davis was one of three Indy Metro Police officers busted in an FBI sting last year. Davis, Robert Long, and Jason Edwards were accused of robbing marijuana dealers and selling their stashes, so the FBI rented a house, rigged it with surveillance cameras, and put out the word the pot was there. The trio got busted in June when they broke in to steal five pounds of pot and $18,000. Davis will get 10-to-15 years instead of a possible 35 in exchange for testifying against his erstwhile comrades, who go to trial next month. He will be sentenced May 1.