The Drug Enforcement Administration (DEA) has a fleet of 106 airplanes, but instead of using one of them, the agency spent $123,000 to fly Acting Administrator Michele Leonhart to Colombia last fall, the McLatchy Newspapers reported Monday. Oh, and it paid another $5,830 to a contractor to arrange the flight with an outside company.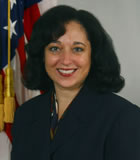 The trip came as the nation was sliding into its worst economic crisis in recent memory and the federal budget deficit was approaching heretofore unknown territory. It came just weeks before Detroit auto executives were royally reamed by Congress for flying to Washington in their corporate jets to beg for bailouts.
"Was it excessive? I guess you could look at it that way, but I don't think so," said William Brown, the special agent in charge of the agency's aviation division. He explained that the plane that would normally carry Leonhart was undergoing scheduled maintenance. "I understand the concern about costs for these things. But we do our best to keep costs under control. I think the DEA is very conservative compared to other agencies."
Typically, if a DEA plane is not available for official trips, the agency can borrow one from another federal agency. Although Brown had a week to prepare for the trip, he said he did not even consider that. "It would definitely be more cost effective for us to borrow somebody else's resource," he said. "But they're going to have to pay for it, as well."
Another option would have been a commercial airliner, but Brown said Leonhart and other officials were under "specific threat" in Colombia. But he refused to be more specific, and an unnamed US Embassy official in Bogota said he was unaware of any specific threats.
While the $123,000 flight was only a drop in the DEA's budget, it raised a red flag, said Steve Ellis, vice president of Taxpayers for Common Sense. "It looks bad," Ellis said. "Clearly, the DEA or any federal agency should be watching their budgets more closely in these difficult times."