A pattern is beginning to emerge. For the second time in as many years, Britain's Labor government has rejected the evidence-based recommendations of the panel charged with crafting British drug policy to soften penalties for specific drugs. Last year, it was cannabis; this year, it is Ecstasy.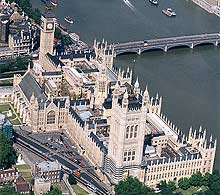 The British
Advisory Council on the Misuse of Drugs
(ACMD) Wednesday released its
review of Ecstasy
and, as expected, called for the popular club drug to be downgraded from Class A to Class B. The Labor government rejected the recommendation the same day.
The ACMD is an advisory body established by the Misuse of Drugs Act of 1971 and charged with reviewing the appropriateness of each drug's classification and advising ministers on whether a drug should be reclassified, as well as offering broader advice on measures relating to drug use. The government is not bound to take its advice, as was the case last year with cannabis, and now with Ecstasy.
ACMD head Professor David Nutt responded to the government's rejection of the recommendation by accusing ministers of being influenced by politics and not scientific evidence. Ecstasy, said Nutt, was "harmful," but not harmful enough to be scheduled in Class A along with heroin and cocaine.
"Our job is not to give messages to the public," Nutt said in remarks reported by the Press Association. "Our job is to tell the Home Secretary and drugs minister about the relative harms of drugs. I think they have accepted our evidence but I think they have made a political decision. There is no doubt ecstasy is harmful but it isn't as harmful as heroin or cocaine."
The government accepted 11 of 13 ACMD recommendations tied mainly to confronting Ecstasy through a harm reduction approach. In addition to rescheduling, the government rejected a recommendation that drug users be provided with drug testing kits to ensure tablets are not adulterated or contaminated.
"Our job is to do science and to present the best science to government," Nutt continued. "Government is about politics and I guess, in an ideal world, the two would be harmonious and synchronized but in a way that's a question you should be asking the politicians."
Home Office minister Alan Campbell said he did not dispute the scientific findings in the ACMD's report. But he said Ecstasy was "unpredictable" and could cause death even in first-time users.
According to the ACMD, about 17 people die each year from Ecstasy-related causes. That prompted Nutt, in an article in a scientific publication, to write that the risks of taking Ecstasy were equivalent to those in riding a horse. That in turn prompted a stern rebuke from Home Minister Jacqui Smith, who successfully insisted that Nutt apologize for the comparison.
Although Labor and the Tories rejected rescheduling Ecstasy, the Liberal Democrats defended the panel. Dr. Evan Harris, party spokesman for science, said it was "deplorable" that ministers rejected the proposal. "Scientists must now seriously question whether it is worth them giving up their time to help a government that not only rejects the message but attacks the messenger."
Although the repeated rejection of ACMD recommendations is causing questions about the agency's future role, it is not shying away from controversy. Next on its agenda: downgrading LSD from Class A to Class B.
The Home Office has already made clear it will oppose that, too. "The government has no intention of reclassifying LSD, which has very random, and sometimes very frightening, effects," said a Home Office spokesman. "It can have serious, longer term implications for somebody who had a history of mental problems and may also be responsible for triggering a mental health problem that had previously gone undetected."