It's jail guards gone wild this week, plus a very sleazy Texas sheriff, some entrepreneurial Fresno narcs, and the latest problems with the evidence room in Galveston. Let's get to it: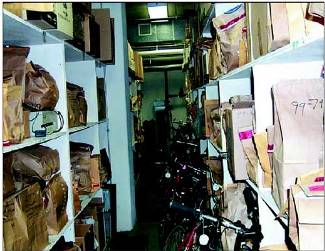 In Fort Worth, Texas,
a former Montague County sheriff pleaded guilty January 29
to extorting sexual favors from a woman as the price of avoiding a drug charge. Former Sheriff Bill Keating, 62, went down for a November drug raid at a home where the victim and her boyfriend lived. The boyfriend was arrested on outstanding warrants and removed by sheriff's deputies, who then searched the house and found meth paraphernalia. Sheriff Keating shooed the remaining deputy out of the bedroom, closed the door, and told the victim, "You are about to be my new best friend." He then threatened to arrest her on drug charges unless she "assisted" him by performing oral sex on him on multiple occasions and becoming a snitch for him. She eventually went to outside authorities instead, and now Keating is headed for the big house. He will be sentenced in May, when he faces up to 10 years. But that may just be the beginning of the story. Local prosecutors said they expected to indict Keating and as many as a dozen jail employees on charges they had sex with prisoners and smuggled in contraband to the county jail.
In Galveston, Texas, drugs have gone missing from the police evidence room -- again. Police Chief Charles Wiley reported January 29 that when officers went to destroy drugs that had already had their day in court, they found small bags of marijuana, cocaine, hydrocodone, and Xanax were no longer there. When they began checking on evidence for cases still pending, they found more missing drugs. Prosecutors have now put on hold all pending drug cases that rely on drug evidence until they can verify the evidence still exists, just as they did last year, when another cache of missing drug evidence led to the dismissal of 21 cases, the firing of the police chief and a detective, and the indictment of a clerk who worked in the evidence room. Reforms were supposed to have been put in place after last year's scandal, but it's not clear they have been. If they have, it doesn't look like they're working.
In Fresno, California, two Fresno Police Department narcotics officers were arrested last Friday on auto theft charges. A third faces misdemeanor charges for providing false information to investigators in the case. Officers Paul Cervantes, 32, and Hector Becerra, 33, both detectives in the Major Narcotics Unit, are accused of misusing confidential informants to lure drug dealers, then stealing their cars. They now face felony auto theft charges. Officer Richard Epps is accused of lying to investigators. Prosecutors said at least one case has had to be dropped because the pair were involved, and more could follow. A fourth Fresno narc, Ubaldo Garza, was not arrested, but investigators seized about 10 vehicles from his home. Garza also owns a business where investigators said they observed activities "consistent" with a "chop shop," where stolen cars are dismantled and their parts sold. On Wednesday, Fresno police announced they were shutting down the entire narcotics unit pending a review.
In Levittown, New York, Jail Guard Accused Of Selling Drugs To Inmates" target=_blank_>a Nassau County jail guard was arrested last Friday for smuggling marijuana, Oxycontin, and cigarettes in for prisoners. Luke Holland, 42, is accused of reaping $9,000 for numerous drug sales to inmates over a nine-month period. Holland is charged with receiving reward for official misconduct in the second degree, a Class E felony carrying a maximum of four years in prison. Holland has been suspended without pay by the Nassau County Sheriff's Department and is free on cash bail.
In Augusta, Georgia, a Richmond County deputy sheriff was arrested January 29 for selling marijuana to inmates at the Richmond County Jail. Deputy Michael Arrington, a two-year veteran of the department, was arrested at the jail and is being held there out of general population. He faces felony charges for marijuana distribution and "crossing a guard line with drugs."
In New Castle, Indiana, a prison guard at the New Castle Correctional Facility was arrested Monday for helping an imprisoned cocaine dealer escape. Maurice Melton, 38, is accused of silencing a door alarm at a minimum security dorm to help the inmate escape, then driving him to Indianapolis. Prison officials said Melton expected to be paid for his help. But now, Melton has been demoted from correctional facility guard to Henry County Jail inmate. The New Castle prison is privately operated by the CEO Group (formerly Wackenhut), and Melton is a CEO Group employee. He has been suspended without pay, too.
In Walla Walla, Washington, a former Washington State Penitentiary prison guard was sentenced last Friday to more than three years in prison for delivering heroin, cocaine, methadone, and marijuana to an inmate. Former guard Camren Jones, 20, must also pay $13,000 -- the cost of locking down the prison to search other inmates for drugs. Jones will likely serve his sentence out of state for his own safety.