(Please participate in our action alert and our Facebook petition.)
DEA agents raided four medical marijuana dispensaries in the Los Angeles area Tuesday, hitting two in Venice, one in Marina Del Rey, and one in Playa del Rey. The raids come nearly two weeks after President Obama took office and on the same day that Eric Holder was confirmed as head of the Justice Department, the agency that oversees DEA operations. They mark the second such incident taking place under the Obama administration, the first being a January 22nd raid of a medical marijuana dispensary in South Lake Tahoe.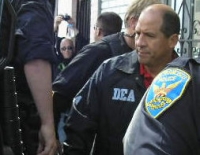 President Obama made repeated campaign pledges to halt the raids on dispensaries operating within California's medical marijuana laws, and by Wednesday night, White House spokesman Nick Shapiro was telling the
Washington Times
that the raids would end once new DOJ officials are appointed.
"The president believes that federal resources should not be used to circumvent state laws, and as he continues to appoint senior leadership to fill out the ranks of the federal government, he expects them to review their policies with that in mind," Shapiro said.
The raids came a day before the National Organization for the Reform of Marijuana Laws (NORML) announced it had commissioned a poll by Zogby International that found overwhelming support for ending the DEA raids. The poll asked the question: "During the presidential campaign, Barack Obama said he would stop federal raids against medical marijuana providers in the 13 states where medical marijuana has become legal. Should President Obama keep his word to end such raids?"
More than two-to-one in all geographic, demographic, and political groups answered "yes." Overall, 72% of respondents said stop the raids.
No one was arrested in Tuesday's raids, but as is typically the case, DEA agents broke down doors and seized marijuana destined for patients as well as cash and computers. Several dispensary operators told California activist organizations that agents acted even more aggressively than usual.
"Those raids were little more than piracy," said Dale Gieringer, head of California NORML. "The conduct of the agents was unprofessional and vindictive. They call them 'investigations,' but they just go in there and steal medicine and money and smash things."
Gieringer cited reports he had received that DEA agents destroyed surveillance cameras at at least one location, possibly destroyed a computer hard drive at another, and took bags of cash without counting it or providing a receipt from another.
"Whose interest does that serve?" asked Gieringer. "And not counting the cash, that's a real no-no. This whole thing needs to be investigated; it's not serving any legitimate purpose. And they picked on places that were modest, well-controlled, legal under state law, and no trouble to anybody. That's pretty scummy."
Drug War Chronicle contacted all four dispensaries hit by the DEA Tuesday, but in each case, either no one was available or no one was willing to talk about the raids. Nor did Los Angeles DEA spokesperson Sarah Pullen, who usually talks to the Chronicle, respond to repeated requests for comment.
Pullen did talk to the Los Angeles Times, but she didn't have much to say. "I can't get into details as to the probable cause behind the warrants except for the fact that they're dealing with marijuana, which is illegal under federal law," she said.
But Kris Hermes, a spokesman for Americans for Safe Access (ASA), said allegations of DEA misconduct during raids are nothing new. "We have received repeated reports of DEA agents not counting cash or providing receipts, as well as instances of agents damaging surveillance cameras placed in facilities to record what is going on inside and outside," he said. "A few months ago in Long Beach, while the federal agents were smashing video cameras, other cameras were recording them doing so and sending the images to an off-site server, so, in this case, at least, we have video evidence of them doing just what they are again accused of."
Hermes also noted that even without the extracurricular activities, the DEA raids on dispensaries are heavy-handed and thuggish. "If you look at them smashing doors and windows and leveling any property in a facilty, that's pretty routine, and has been happening for the past couple of years," he said. "They go in with paramilitary gear, with flak jackets, automatic weapons, sometimes even wearing ski masks, destroy what's inside, and take medicine, money, computers, and patient records, and trash the place."
"This is upsetting," said Bruce Mirken, San Francisco-based communications director for the Marijuana Policy Project. "It's impossible to know at this point how high up this was authorized or whether it was Bush holdovers still doing what they've been doing, but candidate Obama made a promise on this, and it's time for him to keep it," he declared Wednesday, prior to the White House response appearing in the media.
"That should mean it's time for a major housecleaning at DEA, and that's the right thing to do, not only morally, but also politically," Mirken said. "California voted for Obama, as did 11 of the 13 medical marijuana states, including traditionally Republican states like Colorado, Nevada, and New Mexico that flipped into the Obama column in the November elections. And medical marijuana outpolled Obama in Michigan. There is no downside for Obama in doing the right thing."
Mirken was singing a significantly happier tune by Thursday morning. "The White House comments last night are very significant," he said. "This is a historic break with 13 years of federal policy since Proposition 215 passed in 1996. The simple decision that federal resources should not be used to undermine state medical marijuana laws is a fundamental change from the policies pursued not only by Bush, but also by Clinton," he said.
"A lot will depend, of course, on the follow-through," Mirken continued, "but this is a clear signal to the folks at DEA that the game has changed. Now, we will have to see what happens next, both with ensuring that the raids actually stop, and more broadly, that the Obama administration adopts the general theme about respecting science and basing policy on facts rather than ideology. This, I think, marks the beginning of the end of a tragic and stupid federal policy, and all I can say is thank god."
During the long-lived presidential campaign, then-Senator Obama stated in August 2007 that he "would not have the Justice Department prosecuting and raiding medical marijuana users... It's not a good use of our resources." In March 2008, he reiterated that: "I'm not going to be using Justice Department resources to try to circumvent state laws on this issue."
Two months after that, an Obama spokesperson told the San Francisco Chronicle: "Voters and legislators in the states -- from California to Nevada to Maine -- have decided to provide their residents suffering from chronic diseases and serious illnesses like AIDS and cancer with medical marijuana to relieve their pain and suffering. Obama supports the rights of states and local governments to make this choice."
Not surprisingly, ASA, the country's largest medical marijuana advocacy group, jumped in with calls for President Obama and Attorney General Holder to turn promises into policy. "As the new Attorney General, one of Eric Holder's top priorities should be to end these harmful raids on state-sanctioned medical marijuana providers," said ASA director of government affairs Caren Woodson. "And, until a new head of the DEA is confirmed, Holder has a responsibility to cease the existing policy being carried out by Bush Administration officials. Attorney General Holder has the ability to halt this harmful and outdated policy," said Woodson. "And he should do so immediately."
Other drug policy groups joined the chorus as well. "When President Bush was on the campaign trail in 2000 he promised not to interfere in state medical marijuana laws, but that turned out to be a lie as the DEA proceeded to terrorize medical marijuana patients and providers by raiding dozens of dispensaries across California," said Stephen Gutwillig, California director of the Drug Policy Alliance (DPA). "President Obama said on the campaign trail that these raids would end under his administration and millions believed him. We hope these recent raids don't represent official administration policy and that Obama will order federal agencies in no uncertain terms to stop harassing medical marijuana patients and providers in California."
"President Obama needs to show federal agencies who is boss," said DPA national affairs director Bill Piper. "If he doesn't put a halt to these raids, the DEA will continue to undermine his campaign promises."
By Thursday morning, ASA was tentatively congratulating the White House for its reiteration of those campaign pledges. "More than 72 million people live in a state that has enacted laws that authorize the limited use and distribution of cannabis for therapeutic use," Woodson said. "The White House's comments have provided patients and their loved ones a sense of relief, and we hope the President and our Attorney General will keep this pledge in mind when considering appointments to the DEA and Office of National Drug Control Policy."
Perhaps, finally, a new day is dawning when it comes to the federal government's stance on medical marijuana. But the weeks and month to come are what will tell.