New Jersey Multiple Sclerosis patient John Ray Wilson, whose case the Chronicle profiled last week, was found guilty Thursday of manufacturing marijuana and a separate charge of possession of psychedelic mushrooms. But the jury found him not guilty of the most serious charge against him -- maintaining a facility to manufacture marijuana -- which could have seen him sent to prison for 20 years.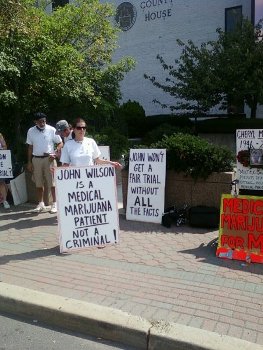 Wilson's case had gotten widespread attention, both because a bill that would have legalized his actions as a medical marijuana patient is nearing passage in the New Jersey Assembly and because the trial judge had earlier ruled that he could not mention medical marijuana or his disease in his defense. In a surprise move yesterday, the judge allowed Wilson to mention that he used marijuana because he suffers from MS, but that brief testimony did not sway the jury.
"I told them (the arresting officers) I was not a drug dealer and I was using the marijuana for my MS(Multiple Sclerosis)," Wilson testified yesterday after multiple sidebar conferences between Judge Robert Reed, prosecutors, and defense attorneys.
But no follow-up was allowed, and the defense was given no chance to expand on Wilson's single-sentence statement.
Wilson was arrested last year after a National Guard helicopter on a training flight spotted plants growing in the back yard of his Franklin Township home. Summoned by the pilot, police arrived at the unemployed 36-year-old's home and arrested him.
Two state senators, Nicholas Scutari, sponsor of the medical marijuana bill, and Ray Lesniak, two months ago called on Gov. Jon Corzine to pardon Wilson. But Corzine punted, saying he preferred to wait until after Wilson's trial had finished. Well, now it's done... and?