Eleven years after District of Columbia voters approved a medical marijuana initiative with 69% of the vote, Congress has finally stepped aside and will allow DC to implement the will of the people. The US Senate Sunday vote to approve the omnibus appropriations bill was the final step in removing language by former Rep. Bob Barr (R-GA) from the DC appropriations bill that had barred the District from implementing the results of the 1998 vote. President Obama signed the bill into law Wednesday.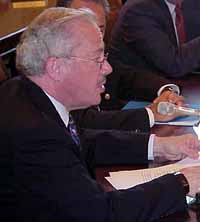 DC will shortly join the 13 states that currently have medical marijuana laws. But unlike some states that have joined the ranks more recently, the language of the DC initiative is relatively loose. It allows "all seriously ill individuals... to obtain and use marijuana for medical purposes when a licensed physician has found the use of marijuana to be medically necessary."
The measure allows patients or up to four caregivers to grow, buy, and possess marijuana for medicinal use. It also permits the establishment of nonprofit dispensaries and orders DC health officials to devise a plan to distribute marijuana to patients.
DC officials say they want to move quickly to set up regulations. DC Council Chairman Vincent Gray (D) told the Washington Post Monday that after more than a decade, this was no time for delay. "We've waited 10 years. I think the opportunity to send it is now," Gray said. "There is no reason to sit on it."
DC Attorney General Peter Nickles, however, throw up a couple of potential roadblocks. He told the Post he has instructed his staff to determine whether the initiative language is too dated to stand up to legal challenge. He also warned that the initiative would have to survive a 30-day congressional review period because the original measure had never been sent to Congress.
But DC non-voting congressional delegate, Eleanor Holmes Norton (D-DC), told the Post the measure did not need further congressional review. "Congress thought they were simply taking the ban off and the District would simply proceed or not proceed," Norton said. "After all we have gone through, I can tell you, the Congress is not anxious to see this issue here again. It's taken me 10 years."
It's not just DC bureaucrats who are scrambling. Allen St. Pierre, executive director of the National Organization for the Reform of Marijuana Laws told the Post he has been fielding numerous enquiries from would-be DC medical marijuana businessmen. "There are probably at least 20 of these cannabis shop owners on the West Coast that have a dead-eye target on the District," St. Pierre said. "Over the weekend, we must have gotten 20 to 30 e-mails or phone messages from people I would say are entrepreneurs."