Update: Wilson was convicted of some charges Thursday, but not the most serious one.
Just weeks before the New Jersey Assembly votes on pending medical marijuana legislation, a trial is set to take place that demonstrates precisely why such a law is needed. A sick Somerset County resident, John Ray Wilson, is looking at up to 20 years in prison for growing his own medicine.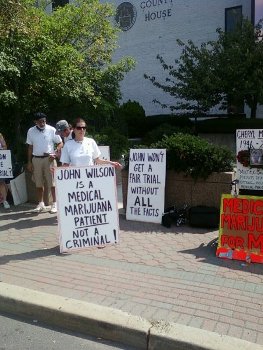 In the summer of 2008, Wilson, a Multiple Sclerosis (MS) sufferer, was broke, had no health insurance, and was desperate for relief from the debilitating symptoms of his disease. Unable to afford pharmaceutical medications and having already resorted to alternative healing practices, when Wilson saw fellow MS victim Montel Williams talk on TV about how medical marijuana had helped him, he decided to try it for himself.
Wilson had even resorted to bee-sting therapy in a bid to relieve his symptoms, but it was marijuana that worked best, he said. "I was diagnosed with MS in 2002," he said. "I suffer from blurred vision, pain in my joints, and muscle spasms. I didn't have any medical benefits, so I tried to get some financial assistance to actually get some MS medicine, but that didn't succeed. I even tried getting stung by bees. Then I saw Montel Williams on TV saying he had MS and smoked marijuana and it helped. So I tried it, too, and it definitely helped, especially in relieving the pain and the muscle spasms."
Lacking access to medical marijuana, Wilson decided to try his hand at growing his own in the backyard of his Franklin Township home, and that's when his life took a real turn for the worse. A National Guard helicopter on a training flight spotted Wilson's garden and reported him to state authorities, who promptly seized his 17 plants, arrested him, and charged him with a number of drug possession and drug manufacturing offenses that could get him 20 years in prison. If convicted on the most serious charge -- maintaining a drug production facility -- Wilson would be ineligible for pre-trial diversion and would have to go to prison.
Wilson and his attorney explored plea bargain negotiations with prosecutors, to no avail. "We were prepared to settle for a reasonable deal, but the best they offered was five years in prison," he said.
Now, Wilson is going on trial. Jury selection is set to begin Monday.
It will be tough for Wilson to prevail. In October, Superior Court Judge Robert Reed ruled that his medical condition, and the fact that he had been taking marijuana to treat his condition, could not be revealed to the jury during the course of the trial.
"By striking my medical history from the trial, they've pretty much tied my hands behind my back," said Wilson. "Hopefully, we can get a jury that can see through what they're doing to me, but it's more than a little scary. The consequences of what they're doing would be horrendous for me. My health would definitely deteriorate in prison. Stress makes all the symptoms worse, and going to prison would definitely be stressful."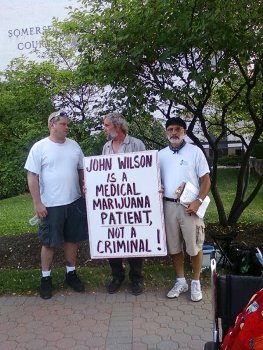 "Wilson tried marijuana and found it does in fact help," said Ken Wolski, head of the
Coalition for Medical Marijuana-New Jersey
, which has lobbied hard to pass a medical marijuana bill in the Garden State to protect patients. "Interestingly enough, a
National MS Society expert opinion paper
recently acknowledged that conventional therapies don't adequately control MS symptoms and marijuana does. But he will not be able to tell the jury he has MS, and that's the only reason he was using marijuana in the first place," said Wolski. "He's got no job, no health insurance, no access to medicine that might bring him some relief. He tries to eke out a living on eBay."
"This is exactly why New Jersey needs a medical marijuana law," said Roseanne Scotti, head of the Drug Policy Alliance New Jersey office, who has been walking the statehouse corridors in Trenton for years trying to get medical marijuana passed. "John Ray Wilson's case is every medical marijuana patient's worst nightmare," she added.
"He was using for medical purposes, but is precluded by the courts from introducing evidence as to why, and the court is correct -- this is the law in New Jersey," Scotti continued. "But that's exactly why we need to change the law -- so people like Mr. Wilson can get safe and legal access to medical marijuana, and we don't go around arresting and prosecuting someone patients seeking some relief."
"John Ray Wilson is a poster child for the legalization of medical marijuana," said Wolski. "So many people are outraged that he is facing 20 years for trying to treat himself and will not even be able to tell the truth during the course of his trial."
In a cruel twist of fate, Wilson is being prosecuted just weeks before New Jersey is likely to adopt a medical marijuana law. The state Senate has already passed it, and the Assembly will vote on it early next month. Outgoing Gov. Jon Corzine (D) has indicated he will sign it. Two of the bill's sponsors, Sens. Nicholas Scutari (D-Union) and Raymond Lesniak (D-Union), have highlighted Wilson's plight as indicative of why New Jersey needs a medical marijuana law.
"It seems cruel and unusual to treat New Jersey's sick and dying as if they were drug cartel kingpins. Moreover, it is a complete waste of taxpayer money having to house and treat an MS patient in a jail at the public's expense," said Scutari. "Specifically, in the case of John Ray Wilson, the state is taking a fiscally irresponsible hard-line approach against a man who's simply seeking what little relief could be found from the debilitating effects of multiple sclerosis. Governor Corzine should step in immediately and end this perversion of criminal drug statutes in the Garden State."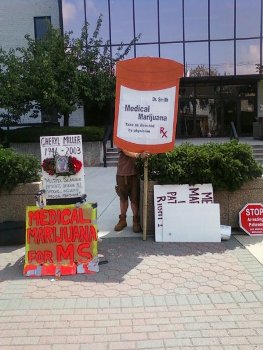 But Corzine hasn't stepped in or stepped up. Instead, his office said it would wait until Wilson was convicted to consider a pardon.
"The attorney general and the governor didn't want to take any action, but they could make this case go away by exercising prosecutorial discretion," said Wolski. "They chose to let it move forward, and now its getting a lot of regional and national attention, and rightfully so, because it shocks the conscience of the community."
"The only way we're going see fewer of these cases come before the court is if the 'New Jersey Compassionate Use Medical Marijuana Act' becomes the law of the land," said Lesniak. "This has been an issue that has taken years to resolve in New Jersey, and legislative approval and enactment into law are long past overdue. It's time that the Assembly posts this bill for a vote, so we can focus our attention on putting real criminals behind bars, and not piling on the suffering for terminal patients simply seeking a little relief from the symptoms of their diseases."
But while an Assembly vote is now set for next month, John Ray Wilson's trial will be over by then. Barring a miracle of jury nullification, Wilson will be drug felon. And in the meantime, he's going without his medicine. "I'm not going to buy marijuana on the street," he said. "That would get me thrown back in jail."