It's an odd mix this week: A cop with a gambling jones doing petty bribery, a pair of narcs misbehaving, and a Customs officer and a small town cop heading for prison are just the half of it. Let's get to it:
In Bridgeton, New Jersey, a state prison guard was arrested November 25 for allegedly smuggling marijuana into the South Woods State Prison, where he worked. Aikeem Williams, 24, is charged with a second-degree count of official misconduct, possession of marijuana with intent to distribute and possession of drug paraphernalia. Williams went down when he was searched upon reporting to work and coworkers found 4.2 ounces of marijuana divided into 16 individually wrapped baggies. He faces between 10 and 20 years in prison if convicted and is sitting in jail on a $250,000 bond.
In Charlotte, North Carolina, a Catawba County sheriff's deputy was charged Tuesday with conspiring to distribute cocaine. Brandon Lee Evans, 27, was a part-time courthouse bailiff from October 2008 until Monday, when he was interrogated and then arrested. According to the federal complaint, Evans accompanied another man on drug runs where they cooked ounces of cocaine into crack and he sold cocaine to some of a third man's drug clients, sometimes in uniform. He is charged with conspiracy to distribute and possess with intent to distribute at least five kilograms of cocaine. Evans went down after one his partners was raided and arrested in September. He gets a bail hearing today.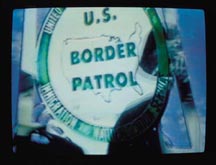 In Cape Girardeau, Missouri,
a former Cape Girardeau police officer was charged Monday
with official misconduct and filing a false report for falsely reporting one of her checks stolen and for passing on information about a third party to a wanted drug offender. Michelle Gary, who resigned from the force three weeks ago under a cloud of suspicion, allegedly took $100 to help a wanted drug fugitive see whether there was an active warrant on the third party. Under interrogation, Gary claimed she only got $40, and it was intended for gambling, not payment for sensitive information. The other count involved an $800 check she wrote to pay off gambling debts. When it bounced, she falsely reported that the person who cashed the check had stolen it. Both charges are misdemeanors.
In Tampa, a former high-ranking Immigration and Customs Enforcement agent has agreed to plead guilty to charges he trafficked in cocaine and supplied drug traffickers with law enforcement information. Richard Padilla Cramer, once head of the Nogales, Arizona, ICE office, was arrested in Tucson in September. A federal criminal complaint alleged that he aided a Mexican drug trafficking organization move cocaine through the US. He was also accused of investing $25,000 with a cartel in a 300-kilogram shipment of cocaine from Panama to Spain that was seized by police. Cramer eventually quit his job to work directly for the cartel, for whom he supplied information on the workings of US law enforcement.
In Newark, New York, two Wayne County Sheriff's Department narcs are facing charges for forcing their way into a private residence. Sgts. Joe Ayotte and John Hall allegedly drove in an undercover vehicle to a residence to confront a man who had contact with Hall's girlfriend. They allegedly burst through the door without permission, saying they wanted to fight people. The resident called Newark Police, and the sheriff's narcs told the townie cops they were there to discuss an undercover operation. But the resident went to the State Police barracks in Lyon to file a complaint, and now Ayotte and Hall have been suspended. It is expected that they will be charged with second degree criminal trespass and harassment.
In Phoenix, a former US Customs and Border Protection officer and his wife were sentenced last Friday to 37 months in federal prison for arranging to allow vehicles loaded with Ecstasy pass through his inspection lane at the Yuma port of entry. They admitted earning $33,000 in the scheme. Henry Gauani, 41, and his wife, Flora, 46, earlier pleaded guilty to federal Ecstasy distribution charges.
In Weston, Kansas, a former Weston police officer was sentenced Monday to 15 months in state prison for selling prescription drugs in Atchinson. Former Officer Kyle Zumbrunn earlier pleaded guilty to distribution of a controlled substance and illegal use of a telephone. He was arrested in September after he sold 80 pills to a Kansas Bureau of Investigation undercover officer. Prosecutors agreed with defense requests for probation, but Judge Martin Asher wasn't buying. Asher said he could not disregard the fact that Zumbrunn was a police officer when he committed the crime and that he deserved to go to prison.
In Craig, Colorado, a former Craig police officer was sentenced Tuesday to a one-year deferred jail term for stealing $500 in drug buy money from the All Crimes Enforcement (ACET) drug task force. Former Officer Bob Brabo pleaded guilty to one count of misdemeanor theft and was sentenced to serve 48 hours community service and pay $484.50 in fines. Ironically, Brabo was appointed to ACET in March after his predecessor was arrested for giving a department laptop computer to a woman with whom he was having a sexual relationship.