More than 50 Utah law enforcement officers have filed workers compensation claims over ailments they believe were caused by exposure to methamphetamine labs, but none have been approved, and most have been dismissed for lack of evidence or because officers sought dismissal in a bid to come up with evidence. Only five cases are still pending.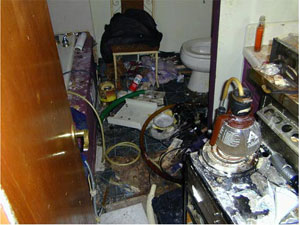 "They have to have enough evidence to justify the claims," said Carla Rush, adjudication manager for the Utah Labor Commission, which handles the claims. "Preferably a doctor saying they have been injured in a work-related exposure to meth. That would be the best evidence."
Scores of Utah police officers participated in breaking down clandestine meth labs in the 1980s and 1990s, wearing only standard police-issue uniforms. That was before they understood the caustic nature of some of the chemicals involved in cooking meth. Now, officers on meth lab duty wear air tanks and hazmat suits.
Those officers from the old days began filing claims asserting that a variety of physical ailments they were suffering were the result of meth lab exposure. By 2006, the Utah legislature commissioned a half-million dollar study to explore the issue. But that study, which was meant to establish a causal link between meth exposure and everything from cancer to nerve damage, was inconclusive.
The state has also paid out tens of thousands of dollars to the Utah Meth Cops Project for a scientifically unsupported detox regime backed by the Church of Scientology. But toxicologists say that toxins would have left the officers' bodies long ago, and the detox program is little more than quackery.
How about a study of legalization, to eliminate the meth lab problem once and for all -- followed by a detox from the consequences of prohibition?