The Tarheel State is about to become the latest to ban salvia divinorum, the potent but fast-acting hallucinogen that has become increasingly popular among young drug experimenters in recent years. A bill that would do that, SB 138, now sits on the desk of Gov. Beverly Perdue, who is expected to sign it. Last week, the House approved the measure by a vote of 94-15. It earlier passed the Senate on a unanimous 45-0 vote.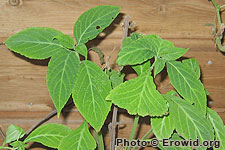 The bill makes possession of salvia an infraction, a minor crime punishable by a maximum $25 fine. A third possession offense would be charged as a misdemeanor. The bill has no separate provisions for charging manufacturing or sales offenses.
The bill includes two exemptions. The first is for ornamental gardening; the second is for university-affiliated researchers.
North Carolina will join 14 other states and a handful of towns and cities that have banned or regulated salvia in recent years, the most recent being the resort town of Ocean City, Maryland, earlier this month. Salvia is not a prohibited controlled substance under federal law, although the DEA is evaluating whether it should be, a process that has gone on for more than five years now.