Defense attorneys in Florida's Sarasota and Manatee counties are challenging the reliability of drug dog "hits" in drug possession and trafficking cases. So far, the tactic has produced mixed results.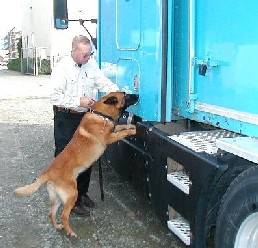 Drug-sniffing dogs are increasingly used in traffic stops. Thanks to the US Supreme Court, which bizarrely ruled that a drug dog search is not a search, no search warrant or probable cause is needed for police to sic the dogs on unwary travelers. Controlled by a police handler, the drug dogs typically circle the vehicle once or twice and "alert" their handlers if they smell drugs. That "alert" then constitutes probable cause for a warrantless search of the vehicle.
But some drug dogs are just too good to be believed. In one case reported by the Tampa Tribune, a now-retired drug dog named Talon "alerted" on every single vehicle he sniffed during a four-month period -- even though drugs were found in less than half of them.
Such results call into question the dog's reliability and can result in a successful motion to suppress the evidence in drug cases, usually leading to the dismissal of charges. That's what happened in a recent Manatee County case. Circuit Judge Johnes Riva said in a ruling the dog's record of false "hits" gave her no choice but to throw out the evidence in a drug case.
But another drug dog, Zuul, who belongs to the Sarasota County Sheriff's Office, fared better in court recently. Even though, like Talon, Zuul "hit" on almost every car he sniffed even though no drugs were found in half of them, Sarasota County Circuit Court Judge Charles Roberts ruled that his nose was reliable enough to justify searching vehicles. Roberts bought prosecutors' and deputies' arguments that in every case where Zuul "alerted," either drugs were found or people in the vehicle admitted to using or possessing drugs in the recent past. That ruling has set up an appeal that could be headed for the Florida Supreme Court.
That set well with the Sarasota Sheriff's Office, which, along with other law enforcement entities, worried that Riva's earlier ruling against Talon would set a trend in case law. More rulings like Riva's would be "catastrophic to the way we've been doing business," said sheriff's office Sgt. Brian Olree, who oversees the K-9 division.
Now, local defense attorneys are checking the reliability of at least three other local drug dogs. "I don't think any of the dogs the Sarasota sheriff's office uses are qualified to detect drugs to get probable cause for searches," Assistant Public Defender Mark Adams told the Tribune.
Defense attorney Liane McCurry, who first successfully challenged Talon's drug-sniffing acumen, told the Tribune she expects to see more challenges to drug dogs' reliability. "I think every attorney should do that," she said.