A Washington state man with a doctor's authorization to use medical marijuana was convicted of cultivation last Friday after a state judge ruled that his use of the herb to treat chronic lower back pain did not meet the conditions of the state's medical marijuana law. Superior Court Judge Anna Laurie ruled that Robert Dalton's marijuana use did not qualify because he failed to show his pain was "unrelieved by standard medical treatments and medications," such as opiate-based painkillers.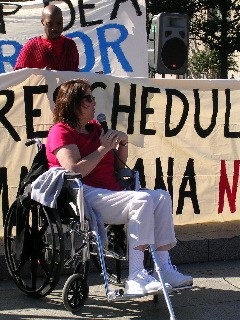 Dalton was arrested in August 2007 after detectives with the West Sound Narcotics Enforcement Team raided his property and found 88 plants growing. Police claimed the plants were more than the 60-day supply allowed by law. But that claim was problematic, since the state Health Department has not defined what constitutes a 60-day supply.
Kitsap County Deputy Prosecutor Coreen Schnepf argued during the trial that Dalton was receiving relief from opiate pain medications and that he needed to have pain that was not relieved by other medications in order to use medical marijuana. It is not known where Schnepf obtained her medical degree.
Defense attorney Douglass Hiatt argued that opiates sickened Dalton and did not relieve his pain, but Judge Laurie sided with prosecutors, effectively overruling the recommendation of the physician who okayed Dalton's medical marijuana use.
An angry Hiatt said the judge had no business second-guessing the doctor's recommendation. "If Judge Laurie wants to be a doctor, she should go to medical school," Hiatt told the Kitsap Sun. "No patient in this state is safe if she's right."
With the conviction, Dalton's medical marijuana card has been revoked and he now faces up to six months in jail for the felony conviction. His attorneys will ask for the sentence to be suspended pending appeals.
Dalton told the Sun after the verdict that he did not want to use opiates for pain relief because they are addictive. "I don't want to be a drug addict," he said. "That's why I chose medical marijuana." [Ed: It should be noted that opiate use for pain management does not constitute addiction, and opiophobia is itself another evil of the drug war just as is medical marijuana prohibition. For some patients marijuana is a better medicine, for others opioids are better.]