Ayurvedic medicine has been practiced for thousands of years in South Asia, but it many of its preparations, which include marijuana, conflict with modern proscriptions against the herb. Now, the Sri Lankan Ministry of Indigenous Medicine and its Department of Ayurvedha are seeking to resolve that conflict.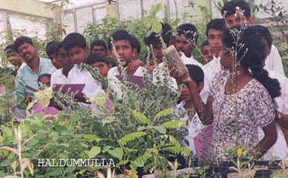 On Monday,
the ministry announced it needs 20 acres of land to cultivate marijuana
for use in a number of ayurvedic medications. The ministry has forwarded a cabinet paper seeking permission for the medicinal marijuana garden. It is also discussing the possible grow with the Dangerous Drugs Board.
"We have to consider the security side of cultivating cannabis even if it is for medicinal purposes. People are sure to misuse the permission granted to cultivate the psychoactive drug," said Minister for Indigenous Medicine Asoka Malimage. "It is required to prepare ayurvedic medicines such as Madana Modaka and several other drugs," he said. "We have to address the matter with care."
Malimage said he would consult with his homologues in India about how their program works. India already allows the cultivation of marijuana for ayurvedic preparations.
Ayurvedha Commissioner Ramani Gunawardhana said Sri Lanka needs about 12,000 pounds of marijuana to supply its traditional medicinal needs. He added that the program currently gets most of its marijuana from crops seized by the courts when illegal cultivators are arrested. But the seized pot is often withered and dried and has lost its therapeutic qualities, thus the need for authorized cultivation.