Nearly 1.9 million people were arrested on drug charges in the United States last year, some 872,000 for marijuana offenses, according to the FBI's annual Uniform Crime Report, released Monday. While overall drug arrest figures declined marginally (down 84,000), marijuana arrests increased by more than 5% and are once again at an all-time high. Drug arrests exceed those for any other type of offense, including property crime (1.61 million arrests), driving under the influence (1.43 million), misdemeanor assaults (1.31 million), larceny (1.17 million), and violent crime (597,000).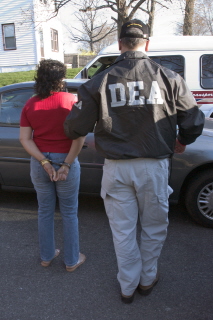 People arrested for drug offenses face not only the distinct possibility of serving time in jail or prison -- drug offenders account for roughly 20% of all prisoners, and well more than half of all federal prisoners -- but also face collateral consequences that can haunt them for the rest of their lives. In addition to carrying the burden of a criminal record, drug offenders can lose access to various state and federal benefits, including students loans, food stamps, and public assistance, as well as being barred from obtaining professional licenses, and in some states, other consequences such as having their drivers' licenses suspended.
The high level of drug arrests comes as overall drug use rates remain roughly at the level they were 30 years ago. In the meantime, state, local, and federal authorities have spent hundreds of billions of dollars and arrested tens of millions of people in the name of drug prohibition.
The increase in drug arrests comes as the overall crime rate decreased. Violent crime was down 0.7% over 2006 and property crime was down 1.4%, marking the fifth consecutive year of declining numbers. All seven categories in the FBI's list of serious criminal offenses -- murder, rape, robbery, aggravated assault, burglary, larceny, and car theft -- saw declines last year. But not drug arrests.
The rate of drug arrests was highest in the West (677.5 per 100,000), followed by the South (664.5), the Midwest (549.6), and the Northeast (508.0). Nationally, the drug arrest rate was 614.8 per 100,000.
Of those arrested on pot charges, 775,000, or 89%, were charged only with possession, a figure similar to that for drug arrests overall. Another 97,000 pot offenders were charged with "sale/manufacture," a category that includes all cultivation or sales offenses, even those involving small-scale violations. Marijuana arrests last year accounted for 47.5% of all drug arrests. Almost three-quarters of marijuana arrests involved people under the age of 30.
The continuing high levels of drug arrests and the increase in marijuana arrests prompted sharp responses from drug reformers. "For more than 30 years, the US has treated drug use and misuse as a criminal justice matter instead of a public health issue," said Bill Piper, national affairs director for the Drug Policy Alliance. "Yet, despite hundreds of billions of dollars spent and millions of Americans incarcerated, illegal drugs remain cheap, potent and widely available in every community; and the harms associated with them -- addiction, overdose, and the spread of HIV/AIDS and hepatitis -- continue to mount. Meanwhile, the war on drugs has created new problems of its own, including rampant racial disparities in the criminal justice system, broken families, increased poverty, unchecked federal power, and eroded civil liberties. Continuing the failed war on drugs year after year is throwing good money and lives after bad."
Marijuana reform organizations naturally zeroed in on the pot arrest figures. "Most Americans have no idea of the massive effort going into a war on marijuana users that has completely failed to curb marijuana use," said Rob Kampia, executive director of the Marijuana Policy Project in Washington, DC. "Just this summer a new World Health Organization study of 17 countries found that we have the highest rate of marijuana use, despite some of the strictest marijuana laws and hyper-aggressive enforcement. With government at all levels awash in debt, this is an insane waste of resources. How long will we keep throwing tax dollars at failed policies?"
"These numbers belie the myth that police do not target and arrest minor cannabis offenders," said NORML executive director Allen St. Pierre, who noted that at current rates, a cannabis consumer is arrested every 37 seconds in America. "This effort is a tremendous waste of criminal justice resources that diverts law enforcement personnel away from focusing on serious and violent crime, including the war on terrorism."
"It's time for a new bottom line for US drug policy -- one that focuses on reducing the cumulative death, disease, crime and suffering associated with both drug misuse and drug prohibition," said Piper. "A good start would be enacting short- and long-term national goals for reducing the problems associated with both drugs and the war on drugs. Such goals should include reducing social problems like drug addiction, overdose deaths, the spread of HIV/AIDS from injection drug use, racial disparities in the criminal justice system, and the enormous number of nonviolent offenders behind bars. Federal drug agencies should be judged -- and funded -- according to their ability to meet these goals."
Piper agreed with the marijuana reform advocates that the marijuana laws are a good place to start. "Policymakers should especially stop wasting money arresting and incarcerating people for nothing more than possession of marijuana for personal use," he said. "There's no need to be afraid of what voters might think; the American people are already there. Substantial majorities favor legalizing marijuana for medical use (70% to 80%) and fining recreational marijuana users instead of arresting and jailing them (61% to 72%). Twelve states have legalized marijuana for medical use and 12 states have decriminalized recreational marijuana use (six states have done both)."
As Piper noted, marijuana law reform is happening, but it's not happening at fast enough a pace to slow the number of pot arrests. Alaska remains the only state to allow for the legal possession of marijuana (in one's home). A federal decriminalization bill was introduced this year for the first time since the Jimmy Carter presidency, but no one thinks it will get anywhere anytime soon. And even decriminalization means that marijuana users are still punished for their choice of substance, as well as having their property stolen by law enforcement.
The situation is even more bleak when it comes to non-pot drug offenders. There is virtually no impetus to rein back the war on them, and even the reform efforts that could reduce their numbers in prison, such as the Nonviolent Drug Offender Rehabilitation Act on the California ballot this fall, would not do anything to reduce the number of arrests. It would merely funnel those arrested into coerced treatment instead of prison.
Barring serious radical reform efforts to end the war on drugs -- and not merely ameliorate its most outrageous manifestations -- there is little reason to expect we will have anything different to report when it comes to drug arrests next year or the year after that.