During a conference in Tegucigalpa bringing together UN Office on Drugs and Crime (UNODC) officials and drug ministers from 32 Latin American and Caribbean nations, the conference host, Honduran President Manuel Zelaya called for legalizing drug use. In so doing, he joins a growing list of Latin American leaders singing the same tune.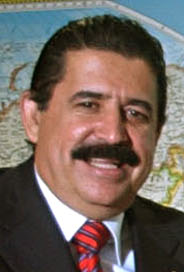 Legalizing drug use, or more accurately, decriminalization, would de-fang international drug trafficking organizations and free Honduras of the financial burden of attempting to impose drug prohibition, Zelaya said. "The trade of arms, drugs and people... are scourges on the international economy, and we are unable to provide effective responses" because of the global drug prohibition regime, Zelaya said Monday at the opening of the 18th meeting of regional leaders against drug trafficking.
Drug users should be considered patients, not criminals, Zelaya said. Drug users could be treated by health care professionals instead of arrested or harassed by police. And the state could stop throwing money down a rat hole, too, he added. "Rather than continue to kill and capture traffickers, we could invest in resources for education and training," the Honduran leader said.
Like the rest of Central America, Honduras is plagued by illegal drug syndicates typically using the country as a transshipment point for Colombian cocaine headed for the North American market. It is also seeing increasing drug use levels as some of the product inevitably falls off of the back of the truck.
With his remarks Monday, Zelaya is joining what could become an emerging Latin American consensus. Just days ago, Mexican President Felipe Calderón, whose country is plagued with prohibition-related violence, called for the decriminalization of small amounts of drugs. The government of Argentine President Cristina Fernández de Kirchner is actively pushing decriminalization there. In Brazil, the courts are leading the way to decriminalization. Meanwhile, Bolivia and Venezuela are openly feuding with the US, in part over drug policy issues. In August, officials of the left-leaning Mexican PRD, the largest opposition party, asked party legislators to consider calling for drug legalization as part of a 'grand national accord' to deal with violence and insecurity in the country.
The talk of legalization by Latin American political leaders is often imprecise -- do they mean decrim or legal, regulated production and sales? -- and to the degree they are really talking only about decriminalization -- not legalization -- the enactment of such policies will fail to reduce some of the harms associated with drug prohibition, although they will reduce certain harms suffered by drug users. But Latin America appears to be on the verge of showing its northern neighbor a thing or two when it comes to humane and effective drug policies.