Michigan's Proposal 1, the medical marijuana initiative sponsored by the Michigan Coalition for Compassionate Care, appears headed for easy victory according to recent polls, but now it is seeing organized opposition, including visits from the drug czar and one of his minions to urge Michiganders to reject the proposal.
When they go to the polls on November 4, Michigan voters will see the following ballot language and be asked to vote yes or no on whether the measure should be adopted:
The proposed law would:
Permit physician approved use of marijuana by registered patients with debilitating medical conditions including cancer, glaucoma, HIV, AIDS, hepatitis C, MS and other conditions as may be approved by the Department of Community Health.
Permit registered individuals to grow limited amounts of marijuana for qualifying patients in an enclosed, locked facility.
Require Department of Community Health to establish an identification card system for patients qualified to use marijuana and individuals qualified to grow marijuana.
Permit registered and unregistered patients and primary caregivers to assert medical reasons for using marijuana as a defense to any prosecution involving marijuana.
If passed by the voters, the measure would make Michigan the 13th medical marijuana state and, significantly, the first in the Midwest. Currently, all the medical marijuana states are in the West or the Northeast.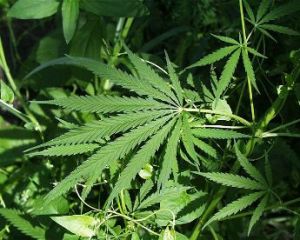 That could explain why the
White House Office of National Drug Control Policy
(ONDCP, the drug czar's office) is concerned enough to send its top people to Michigan, but at the state level, the organized opposition is a collection of the usual suspects from law enforcement, moral crusader, cultural conservative, and staid medical groups resorting to the same old medical marijuana bogey-man arguments always made by defenders of the status quo.
State opposition emerged late last month with the public coming out of Citizens Protecting Michigan's Kids. The group's spokesman, state appellate judge Bill Schuette, has been holding news conferences, this week in conjunction with drug czar Walters, and penning op-eds, in order to stoke fear about the initiative through a barrage of distortions, disinformation, misinformation and fabrications.
Schuette is especially fond of warning that -- gasp! -- if the initiative passes, Michigan will turn into California with its "chaos, pot dealers in storefronts and millions of dollars being dumped into the criminal black market," as he put it in the op-ed piece. The Michigan initiative "is just like the California law," he wrote, even though the Michigan law is much more restrictive on who can become a medical marijuana patient and does not provide for medical marijuana dispensaries.
That particular distortion is even embedded in the group's web site URL, www.nopotshops.com, although, again, the Michigan initiative does not allow for dispensaries.
Schuette and company are also hitting the theme that passing the initiative will lead to an orgy of teen marijuana use. "Law enforcement officials in California point to their state's marijuana law as a cause for the dramatic increase in drug use among high school students," he wrote, reprising comments along the same line he made at an earlier press conference.
Again, Schuette was spouting misinformation. According to a June 2008 report from the Marijuana Policy Project based on official state and national survey data, teen marijuana use has gone down in all grades in California and almost across the board in all other medical marijuana states in the 12 years since California passed its medical marijuana law.
"The opposition is using scare tactics out of desperation, which does not diminish the fact that medical marijuana can safely and effectively relieve the pain and suffering of seriously ill patients," Dianne Byrum, spokeswoman for the Michigan Coalition told the Associated Press earlier this month in response to the opposition claims. "They are just throwing things up in the air and hoping something will stick," she said, emphasizing that Michigan's initiative does not allow for the opening of "pot shops." "This law is nothing like California," she said flatly.
On Monday, the feds arrived. Deputy drug czar Scott Burns flew in to hold a press conference with Schuette and a roomful of law enforcement officials.
"Proposal 1 is bad for Michigan and it is bad for America," Burns said. "This issue is about dope, not about medicine."
Burns also argued that the initiative is backed by wealthy individuals who have supported similar measures in other states. "They are funded by millions of dollars from millionaires who live in Washington, DC, to hire people to come to Michigan to try and con voters from the state to pass it," he said without apparently noting the irony that he, if not a millionaire himself, had come from Washington, DC, representing an agency with a multi-billion dollar budget to tell Michigan voters what to do.
On Tuesday, the big dog himself, drug czar Walters showed up. In a Lansing press conference that same day, Walters repeated some of Schuette's misinformation about the possible increase of teen marijuana use and his deceptive comparisons with California.
Walters also said that the initiative "gives people who are addicted a way to say I have a medical problem" to obtain more of the herb. He also argued that marijuana, unlike opiate pain medications, is unregulated with varying potency, and that a pharmaceutical form of marijuana, Marinol, is already on the market. "To say we need to smoke a weed to make people high because that's the best we can do for them is an abomination," the Michigan native declared.
But the emergence of Michigan Citizens and the arrival of the drug czar and his deputy may be too little too late. The measure was well ahead in the most recent poll, and the state press has balanced the dire warnings of Walters and his local counterparts with interviews with patients and initiative supporters, so it is unclear how much ground the opposition offensive can gain.
For Bruce Mirken, communications director for MPP, which has confronted ONDCP interference with state initiatives in the past and which is supporting the Michigan initiative, the drug czar's schtick seemed time-worn and grasping.
"We're about equal parts amused and horrified," he said. "It's the same old disinformation campaign at taxpayers' expense that Walters has done again and again. This time, not only did he go to Michigan on our dime, he even brought along a medical cannabis vending machine the DEA seized a few months ago from a dispensary in Los Angeles, even though the Michigan initiative doesn't allow for dispensaries, let alone vending machines. It's the Walters Disinformation Tour 2008," Mirken groaned.
The campaign of false attacks on the initiative suggests that the opposition is desperate, said Mirken. "In some ways, that's a good sign for our side," he argued. "They don't have any actual facts and are reduced to making stuff up."
The voters of Michigan will have the final say in a little more than two weeks from now. Stay tuned.