As part of its effort to wipe out methamphetamine, and especially home-cooked meth, the state of Iowa enacted a law limiting the amount of pseudoephedrine people could purchase in a 24-hour period or in a month. The idea was to crack down on people who used the ingredient in popular cold and allergy medications to make their own meth.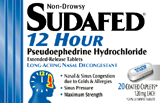 But the law of unintended consequences struck again this month -- or in the case of loal sheriffs, perhaps intended consequences -- this time landing squarely on the head of a Mason City man who knows nothing about meth, but knows a lot about suffering from chronic nasal congestion. Gary Schinagel, 47, a senior investment associate at Principal Financial Group in Mason City, was arrested for the illegal purchase of pseudoephedrine after buying generic cold medicines to treat his condition.
Schinagel told the Mason City Globe Gazette his through-the-looking-glass encounter with the drug war began when his niece called him and told him he had been listed in a newspaper article as one of the uncaught miscreants in a roundup of violators of the cold medicine law. Schinagel went to the sheriff's office thinking he could clear up the "mistake," but was instead arrested.
"It is a sinking feeling to be placed under arrest," said Schinagel. "I'm not a stick-in-the-mud but I've tried all my life to abide by the law and not cross any lines I shouldn't cross. I've tried all my life to avoid situations like I find myself in now. And I still don't know which line I crossed," he said, wondering if he had purchased too many pills in one day or in one month.
He had to call his bank to get the $1,000 bail bond needed to get him out of jail. "It was embarrassing," he said. "The woman at the bank recognized my voice. I sang in the choir with her."
No word yet on apologies from the cops or when his charges will be dropped. In the meantime, Schinagel is taking cold pills that don't contain pseudoephedrine. They don't work as well, he said, and he has to buy more boxes. One more example of collateral damage in the drug war.
But Schinagel is more understanding than the police who arrested him after he came to the station to straighten out the mess. "Laws are made because there are some bad people out there and it's too bad that sometimes innocent victims get caught up in it," he said. "I understand the law -- but I will say there are some quirks in it."