In a narrow interpretation of the state's Compassionate Use Act, the California Supreme Court ruled Monday that people who supply medical marijuana to an approved patient can be prosecuted as drug traffickers if they don't meet the court's standards for caregivers. That standard must involve more than merely supplying medical marijuana to a qualifying patient, the court held.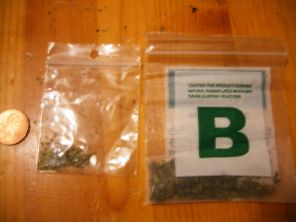 Prior to Monday's ruling, marijuana growers who had been designated as caregivers by multiple patients had been able to win protection from prosecution under the Compassionate Use Act. Now, patients who relied on such growers to provide their medicine will have to turn to dispensaries that are organized as co-ops or collectives in accordance with California law.
The ruling came in the case of California v. Mentch. Roger Mentch was arrested in 2003 after a bank teller smelled marijuana on repeated cash deposits he made and police subsequently searched his home, where they found nearly 200 pot plants growing. Mentch told investigators he was the "primary caregiver" for five qualified patients, but at trial, the judge refused to let the jury consider whether he was a caregiver, and Mentch was convicted and sentenced to probation. An appeals court in San Jose overturned his conviction, saying jurors should have been allowed to decide whether he was indeed the patients' caregiver, but now the state's high court has disagreed.
"We hold that a defendant whose caregiving consisted principally of supplying marijuana and instructing on its use, and who otherwise only sporadically took some patients to medical appointments, cannot qualify as a primary caregiver under the Act and was not entitled to an instruction on the primary caregiver affirmative defense," wrote Justice Werdegar for the court. "We further conclude that nothing in the Legislature's subsequent 2003 Medical Marijuana Program (Health & Saf. Code, §11362.7 et seq.) alters this conclusion or offers any additional defense on this record."
The language of Proposition 215 defines a primary caregiver as "the individual designated by the [patient]... who has consistently assumed responsibility for the housing, health, or safety of that person." With this ruling, the state Supreme Court has defined that definition to "imply a caretaking relationship directed at the core survival needs of a seriously ill patient, not just one single pharmaceutical need."
Thus, for someone to be able to assert a caregiver defense to a marijuana cultivation or distribution charge, he "must prove at a minimum that he or she (1) consistently provided caregiving, (2) independent of any assistance in taking medical marijuana, (3) at or before the time he or she assumed responsibility for assisting with medical marijuana."
"Ideally, it won't have a tremendous effect," Joseph Elford, attorney for the medical marijuana advocacy group Americans for Safe Access told the San Francisco Chronicle. "Patients will now increasingly get their medication through collectives and cooperatives."
The 2003 law establishing the dispensary system "provides an alternative outlet for patients," agreed Deputy Attorney General Michele Swanson, the state's lawyer.
But Mentch attorney Lawrence Gibbs told the Chronicle the court's decision "made it much, much more difficult" for qualified patients to get their medical marijuana. While the ruling may not have a significant impact on access to medical marijuana in areas where dispensaries are plentiful, large swathes of the state have no dispensaries. In those areas, patients will have to grow for themselves, have a spouse, domestic partner, or family member who can meet the court's definition grow it for them, travel long distances to areas where there are dispensaries, or resort to the black market.