This month's national elections are over, but marijuana reformers in Colorado are taking no breaks. Just 11 days after red state Colorado turned dramatically blue, nearly 300 activists and would-be activists gathered last Saturday morning at Regis University in Denver for the 2008 Colorado Marijuana Reform Seminar and Activist Boot Camp, designed to make them more effective and to pave the way for more marijuana law reform in the Rocky Mountain State.
There is plenty to build on. Colorado has been a medical marijuana state since 2001 and a decrim state since the 1970s. In the past few years, activists like Mason Tvert of
SAFER
(Safer Alternatives for Enjoyable Recreation) and Brian Vicente of
Sensible Colorado
have been building an impressive movement for a new set of reforms. In 2005, SAFER won a Denver vote to legalize marijuana possession, and after that was ignored, came back in 2007 with a winning lowest law enforcement priority initiative in Denver.
But while Denver appears ready to embrace legal weed, the rest of the state is not quite there yet, and a 2006 statewide legalization initiative ultimately came up short with 41% of the vote. A big part of the focus of the boot camp was to ensure that next time a legalization initiative appears on the ballot, it goes over the top.
To that end, SAFER and Sensible Colorado assembled a series of panel for the day-long seminar. Beginning with "Colorado's Marijuana Laws: Past, Present & Future," and "Everyone Can Agree: Colorado Needs Reform," "Citizen Lobbying: Reaching & Influencing Elected Officials," "The Media: How It Works, How We Can Use It, & Why It Matters," and culminating with "Taking Action: Building Support & Maintaining Momentum," organizers created a very full plate indeed for the assembled activists. The panels featured scientists, liberal and conservative public policy analysts, media representatives, and seasoned activists.
One big catch for the boot camp was House Majority Leader Paul Weissmann (D-Louisville), who explained the necessity and the how-to of lobbying elected officials to bring change. "We frankly just listen to each other unless there's an effort for people to get a hold of us," Weissmann said. It is more effective to build long-term relationships with elected officials than to make a campaign donation, he said. "The people who I remember more aren't folks who wrote a check, but the people who went door-knocking," he said.
"The 2008 campaign season only just ended for most people," said SAFER executive director Mason Tvert. "But for the growing number of Coloradans committed to reforming state and local marijuana laws, the 2009 campaign season has already begun. Our first goal -- to disprove the myth that marijuana makes people less motivated -- has clearly already been accomplished."
The boot camp filled an identifiable need among Colorado activists, said Tvert. As groups who had led campaigns and garnered considerable notoriety, it fell on SAFER and Sensible Colorado to address that need, he said.
"Because of all the work we've done around the state and all the media coverage we've received, we frequently hear from people who want to get involved; there are some every week," Tvert explained. "We wanted to find productive things for these people to do and we wanted to create a more supportive environment for ballot measures, so we identified areas where people can make a difference and developed materials so they can do things more effectively and understand the whys and wherefores," he explained. "The boot camp brought everyone together to provide them with the materials and some training. The point of the panels was to give them first-hand information that will help them be better, more effective activists," he added.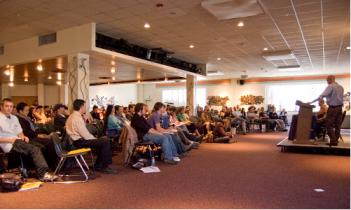 "We didn't realize it would garner this much interest," said a clearly pleased Tvert. "We got people from all around the state. There were students, there were professionals, there were retirees. There were medical marijuana people there, but this wasn't about medical marijuana; it was about broader marijuana policy reform."
"The boot camp was an unqualified success," declared Sensible Colorado's Brian Vicente. "We thought we might pull in 75 people on a Saturday morning, but I think we actually had 283 register. That shows there is an overwhelming interest in this issue in Colorado. We had lots of people from the Front Range because that's where most of the people are here, but we also had dozens of people from areas considered less friendly, like Colorado Springs and out on the West Slope."
That's important because even in unfriendly environments, votes matter, he said. "Whether it's someplace friendly, like Boulder or Fort Collins, or someplace unfriendly, if we can pick up even a couple of percentage points, that can make the difference in a statewide vote," he said.
"It was really inspiring to see everybody there focusing on the same goal, even people who don't necessarily smoke marijuana, but see it as a civil rights issue and want to help out victims," said Andrew Stephens, a 20-year-old student at Fort Lewis College in Durango, a seven-hour drive over the mountains from Denver. "I was outraged watching those federal raids on the California dispensaries -- that's what motivated me to get involved -- so I started a NORML chapter this year to work with other organizations and chapters to change marijuana policies."
Stephens said he was going to apply some of what he learned at the boot camp back home in Durango. "I'm interested in getting a lowest law enforcement priority initiative passed in Durango like there is in Denver," he said. "That would help give law enforcement more resources and time to spend on more important matters and lift a burden on college students who face persecution from law enforcement," he added, practicing his talking points.
Panelist Pam Clifton, outreach director for the Colorado Criminal Justice Reform Coalition, also called the event a success. "It was really well attended, people were really excited, and people stayed put in their seats," said Clifton. "It was a great event, very diverse, and there was a lot of energy in the air."
For Clifton, marijuana law reform is part of a broader criminal justice agenda. "We're about working to stop mass incarceration in Colorado, and recidivism and drug policy are really driving a lot of that, so a lot of our fight is about stopping the drug war," she said. "We want people to make the connection between how a marijuana conviction can affect the rest of their lives and changing those laws, and since we do a lot of grassroots activism, this event gave us an opportunity to reach out to these people."
The interest in last weekend's Marijuana Boot Camp may reflect not only the years of activism by the likes of Tvert, Vicente, and their allies, but also changing Colorado demographics and political attitudes. For the first time in decades, Colorado voted for the Democratic presidential candidate this year.
"You're certainly seeing more progressives and Democrats getting into power here, and that bodes well for marijuana reform," said Sensible Colorado's Vicente. "Also, Colorado had a very strong grassroots machine in place that helped Obama win a traditionally red state, so there's something to be said for people power. And the fact that almost 300 people showed up on a Saturday morning a week after the election to talk marijuana reform politics is also a very good sign."
"The atmosphere has really changed quite a bit," said Clifton. "We're really blue these days. Last year, the legislature passed an act creating a governmental commission on criminal justice. They have to reduce the prison population in this state, so they looked at recidivism, next is some juvenile justice stuff, and then sentencing. But measures to reduce the prison population are the low-hanging fruit. I think only after that we will have a real opportunity to make changes around the marijuana and other drug laws."
Part of what makes marijuana law reform a relatively lower priority, said Clifton, is that Colorado's marijuana laws are already quite liberal for simple possession. Under current state law, possession of less than an ounce is already decriminalized with a maximum sentence of a $100 fine.
But the fact that Colorado has relatively progressive marijuana laws already is no reason to slow down down, said Tvert. "Whether it's more local initiatives or another statewide one in 2010 or 2012, we want to get these people active in their communities spreading our message," said Tvert. "We made 25,000 four-page business cards with our marijuana is safer than alcohol message on one page, that it should be treated that way on the next, how to contact elected officials on the third, and lastly, how to contact us."
While the legislature and other sections of the criminal justice reform community may have their attention elsewhere, an army of activists is now haunting the streets of Denver and Boulder, the high plains of Eastern Colorado, and the snowy peaks of the Rockies, laying the groundwork to take it to the next level.