If there is one man who symbolizes and epitomizes the federal war on drugs, it is the head of the White House Office of National Drug Control Policy (ONDCP), colloquially known as the drug czar's office. For the last eight years, that man has been John Walters, a protege of conservative moralist Bill Bennett, the first ONDCP drug czar. With his anti-marijuana media campaigns, his innumerable press releases, and his interference in various state-level initiatives, Walters has been drug reform's bête noire.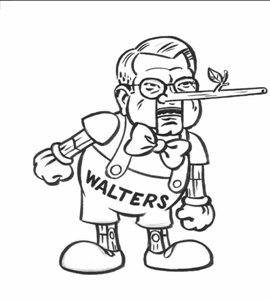 Now, Walters and his boss, President Bush, are preparing to exit stage right, and the Obama administration will have to choose his successor. Given the foreign wars and failing economy facing the incoming administration, filling the drug czar position doesn't appear to be a high priority for the new resident at the White House. Only one name has been publicly mentioned, Los Angeles police chief William Bratton, and
he has said he's not interested
. A US News & World Report
list of potential White House appointments
doesn't even list any names for consideration as drug czar.
But for people interested in undoing some of the harms of the Bush era drug war, ONDCP is very important. As ONDCP explains on its home page:
"The principal purpose of ONDCP is to establish policies, priorities, and objectives for the Nation's drug control program. The goals of the program are to reduce illicit drug use, manufacturing, and trafficking, drug-related crime and violence, and drug-related health consequences. To achieve these goals, the Director of ONDCP is charged with producing the National Drug Control Strategy. The Strategy directs the Nation's anti-drug efforts and establishes a program, a budget, and guidelines for cooperation among Federal, State, and local entities.

"By law, the director of ONDCP also evaluates, coordinates, and oversees both the international and domestic anti-drug efforts of executive branch agencies and ensures that such efforts sustain and complement State and local anti-drug activities. The Director advises the President regarding changes in the organization, management, budgeting, and personnel of Federal Agencies that could affect the Nation's anti-drug efforts; and regarding Federal agency compliance with their obligations under the Strategy."
So, who is it going to be? Drug reformers and others consulted this week by the Chronicle had few actual suggestions -- some worried that anyone suggested or supported by the reform movement would be doomed -- but plenty of ideas about what type of person should replace Walters. And some even speculated about the possibility of just doing away with the drug czar's office altogether.
"The reform community needs to be looking at someone who has a comprehensive public health orientation or who has an evidence-based focus," said Eric Sterling, former counsel to the House Judiciary Committee and currently president of the Criminal Justice Policy Foundation. "This would be someone who says goal number one is treatment of people with hard-core addiction problems and number two is to make sure our prevention programs are effective and well-grounded."
Sterling mentioned a couple of possibilities. "I don't think it's realistic to think we can get a reform sympathizer in there. It's not going to be Ethan Nadelmann. It needs to be someone who has administrative experience in some capacity. One possibility would be Chris Fichtner, the former head of mental health for the state of Illinois," Sterling suggested.
Fichtner is an associate professor of psychiatry at the University of Chicago who has worked with drug reformers in Illinois. He testified in favor of medical marijuana bills in Illinois and Wisconsin.
"Another possibility, someone I know the reform community had a lot of respect for before he went into government is Westley Clark, head of the federal Center for Substance Abuse Services," Sterling continued. "He's African-American, been at the federal level for a long time, has experience managing a federal agency, and a lot of experience in the field."
"If we had our druthers," said National Organization for the Reform of Marijuana Laws (NORML) executive director Allen St. Pierre, "it would be somebody like Ethan Nadelmann, with a comprehensive understanding of drugs, but that's a wet dream." Instead, he said, one name being kicked around was Mark Kleiman, a professor of Public Policy at the UCLA School of Public Affairs who has written extensively on drug policy and whose innovative ideas sometimes raise as many hackles in the reform community as they do among drug warriors.
St. Pierre mentioned one other possible candidate. "Another name we're hearing is Bud Schuster, a former head of NIDA in the 1980s," he said. "That would be someone coming at it at least from a NIDA point of view, and we need someone like that, not someone just coming at it from a criminal justice perspective."
"I'd almost be happy with any drug czar who doesn't constantly say stupid things," said David Borden, executive director of StoptheDrugWar.org (publisher of this newsletter). "We would like to see someone who will approach it from a public health standpoint, who will work to contain the criminal justice system in ways that protect the public health objectives of drug policy."
Borden pointed to a trio of what he called "moderate academics" as possibilities. "People like Kleiman or Peter Reuter and Robert MacCoun [coauthors of 'Drug War Heresies'] are not drug war hawks and they are thinking people. We need some logical thought at the White House drug office."
"We're as anxious to see what names pop up as anybody," said Dan Bernath, a spokesman for the Marijuana Policy Project. "We think John Walters set the bar pretty low. If there has to be a drug czar, we want to see someone who bases policy on facts and science, not ideology."
"Former Baltimore Mayor Kurt Schmoke once said we need a surgeon general, not a military general, and I think that's a good starting point," said Drug Policy Alliance national affairs director Bill Piper. "At a minimum, we want someone coming from public health or medicine, as opposed to law enforcement or the conservative punditry. Drug reformers and harm reductionists and treatment providers have been in the wilderness for 20 years; now it's time for someone who understands addiction and supports evidence-based programs."
"If we're going to have a drug czar, we need one who insists on accuracy, honesty, transparency, and who is is willing to consider alternatives to the drug war including harm reduction approaches as well as modifications of the drug war such as increased funding for treatment and prevention," said Matthew Robinson, professor of criminal justice at Appalachian State University and co-author of "Lies, Damned Lies, and Drug War Statistics: A Critical Analysis of Claims Made by the Office of National Drug Control Policy."
But, said Robinson, we don't really need a drug czar. "We don't need an ONDCP or a drug war, so therefore we don't need a drug czar," he argued. "Yet, we do need an accurate, honest, transparent agency to evaluate drug abuse control policy (just like with other government policies). It can be ONDCP or some other agency, but if it is ONDCP, it must be removed from the White House since there it is merely a political office whose aim is to further drug war ideology."
Former ONDCP Public Affairs Director (during the Clinton years) Robert Weiner was as critical of Walters and the Bush administration as anybody, but for different reasons. Weiner complained of the systematic weakening of the office in the Bush years.
"This administration has been a disaster in shrinking the power of the drug czar," Weiner said. "They dropped the drug czar's budget certification authority from $19 billion to $13 billion, they took away oversight power over some programs, they've cut the media program, they tried to move out the High Intensity Drug Trafficking Area (HIDTA) program and the Justice Department community grants program. I've shed many tears as I watched the power of the drug czar deflate by his own lack of initiative."
It didn't have to be that way, Weiner said. "When Bush was selecting a drug czar, there were eight or 10 treatment honchos they were looking at, but he chose a partisan hack. It was as if there were no drug czar. His job was to press the drug issue as a national security and domestic health issue, and he didn't do enough of it."
Weiner is less concerned with the field from which the next drug czar emerges than his ability to advance the office's charge. "The most important thing is that he be a forceful, aggressive, forceful advocate," he said. "No matter what side of the fence you're on, everyone is in favor of drug treatment, and drug court is very good. We need someone who will push the concept of treatment not imprisonment for nonviolent offenders," he said.
But while Weiner would like to see a strengthened drug czar, many drug reformers would be glad to see no drug czar at all. "Patients Out of Time sent a letter to Obama transition co-chair Valerie Jarrett on the 9th," reported the group's Al Byrne. "We recommended the drug czar position be abandoned but... if that was somehow not politically feasible then the position be staffed by a health care professional, specifically a MD or RN who is not an academic/political professional."
"Ideally, ONDCP should be sunsetted," said St. Pierre. "I think many reformers could agree with that, but it doesn't appear to be on the table. If we're going to be burdened with a drug czar's office, we need a break from the two principal models -- the political hacks, like Walters and Bennett, and the law enforcement/military types, like McCaffrey and Lee Brown. If we're going to have a drug czar, make him an MD or someone in the public health realm."
"The nation and the government don't need a drug czar," said Sterling. "One of the important warnings of the 1973 Shafer Commission was about the institutionalization of the anti-drug effort, the creation of self-sustaining bureaucracies. The ONDCP is the prime example of that problem. Because of its prominence, it has the greatest capacity for mischief and gets the most attention for its falsehoods and PR-driven policies," he said.
The federal drug apparatus could be reorganized, he argued. "It may be the case that a reorganization of federal drug agencies is called for, probably with coordination under the Department of Health and Human Services," he posited. "There doesn't need to be a DEA with its SWAT mentality, and the effective management of a drug control program doesn't require White House supervision, either."
The agency comes up for reauthorization in 2010. That could prove an opportunity to try to kill it or, more likely, to try to restructure it. While going for the kill would be sweet, that appears unlikely to happen at this point.
It is "not realistic" to think an effort to sunset ONDCP in 2010 will bear immediate fruit, said Sterling. "The effective drug control movement has not developed a campaign and a political imperative, a drug control organizational paradigm that is a clear alternative to the existing one," he pointed out. "Therefore, there is no campaign in the Congress or in the news media."
Nor is there any evidence that the Obama administration is eyeing ONDCP for the axe. "The only way there would be any drive in the administration to do away with ONDCP would be if there is an analysis from the new cabinet secretaries deciding collectively that ONDCP is a big enough problem that they would want to abolish it," said Sterling.
Another obstacle is that incoming vice-president Joe Biden crafted the legislation that created ONDCP 20 years ago. "Any proposal to do away with the drug czar would get into that history with Biden. It would have to reject Biden's approach, or he would have to change his mind. If Biden were to say ONDCP was now unneeded, that would be one thing, but I haven't seen any sign of that."
With the prospect of killing ONDCP apparently off the table for now, some reformers are concentrating on making the best ONDCP possible. That may be the best to hope for in the near- and medium-term.
"If we could change this office so its responsibility is reducing the harms of both substance abuse and drug prohibition, then it would be very useful," said Piper. "There are very clearly problems with both drug abuse and the war on drugs. Even if the drug war ended tomorrow, there would still be a drug problem and a need for national leadership around harm reduction and treatment, including alcohol and tobacco. Reauthorization in 2010 is a real chance to change what ONDCP is all about. If that's possible it's worth keeping the agency."
Now the waiting game begins. Given the Obama administration's priorities and the full plate of problems it faces, we could be waiting awhile for a new drug czar.