Already cool relations between Bolivia and the US grew even chillier over the weekend, as Bolivian President Evo Morales announced Saturday that he was suspending anti-drug operations by the US DEA within Bolivian territory. In making the announcement, Morales accused the DEA of interfering in internal Bolivian affairs and trying to undermine his government.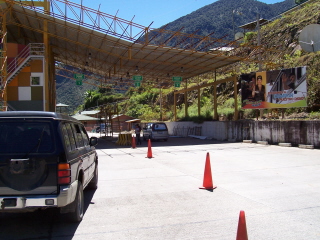 "From today all the activities of the US DEA are suspended indefinitely," Morales said Saturday in remarks reported by the
BBC
. "Personnel from the DEA supported activities of the unsuccessful coup d'etat in Bolivia," he added, referring to a September massacre of Morales supporters that left 19 people dead. "We have the obligation to defend the dignity and sovereignty of the Bolivian people."
Morales, a former coca grower union leader who won the presidency in 2006, has embarked on a policy of "zero cocaine, not zero coca" in the Andean nation where the coca plant is widely chewed or drunk as a tea by indigenous people. Under Morales' program, farmers in specified areas are allowed to grow small amounts of coca for traditional and industrial uses.
While US officials earlier this year acknowledged Bolivian successes in the fight against cocaine trafficking, tensions have been rising -- not all of them to do with coca and cocaine. The Bolivian government limited DEA activities earlier this year, then expelled the US ambassador, charging that he had supported an effort to overthrow the government by separatist leaders of eastern provinces in September. The US retaliated by expelling Bolivia's ambassador to Washington, and last month, by adding Bolivia to the list of nations that had not adequately met US drug war goals.
Although Bolivia is only the third largest coca producer in the region, behind Colombia and Peru, it and Venezuela were the only countries in Latin America that were decertified. Venezuela kicked out the DEA in 2005, citing internal interference as well.
US officials denied Morales' claim of DEA interference. "These accusations are false and absurd," an unnamed senior State Department official told Time in response to Saturday's announcement. "The DEA has a 35-year track record of working effectively and professionally with our Bolivian partners," the official added.
Some 70 Bolivian citizens have been killed and about 1,000 wounded combating DEA-led coca eradication efforts since the late 1980s. Unrest over coca control policies helped vault Morales to the presidency in 2006.
The US currently funds Bolivian anti-drug efforts with $35 million a year. It is unclear what will happen to that funding.