The residents of Christiania, a 900-person countercultural enclave that had been self-governing since hippies took over an abandoned military base in the center of Copenhagen in 1971, have petitioned the Danish courts in an effort to regain control over their community. The conservative national government cracked down on drug sales in the enclave's famous Pusher Street in 2004 and later announced plans to yuppify the district.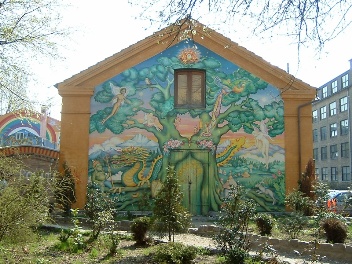 Christiania residents have fought back. When the government announced in 2004 it was cracking down,
cannabis dealers burned their own Pusher Street shops
and retreated to cafes and apartments in a bid to blunt the drive. They sued the Danish government in 2006 claiming the right to use the land even if they don't own it.
Since then, there have been numerous clashes between residents and police, including street fighting two weeks ago that left two officers injured and 15 people arrested. That battle came as police tried to evict squatters. They fired tear gas at demonstrators, who responded by setting fire to police barricades and pelting police with rocks and Molotov cocktails.
"The plan by the government would destroy Christiania as we know it," Thomas Ertman, a spokesman for Christiania residents, told the Associated Press Monday.
The case is before the Eastern High Court and is set for a hearing by November 21. A decision is expected in January.