In a May 22 decision, the California 2nd District Court of Appeal in Los Angeles has ruled that state lawmakers unconstitutionally overstepped their bounds by limiting the amount of marijuana patients could possess. California's Compassionate Use Act became law as the result of a 1996 voter initiative, and the legislature cannot amend initiatives, the court held.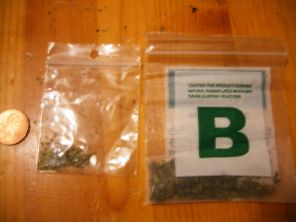 Seeking to regulate medical marijuana in the state, the legislature passed a bill that set limits on the amount of pot patients could possess. That bill set the limit at eight ounces of dried marijuana and six mature or 12 seedling plants.
Prosecutors used that provision of the law to charge medical marijuana patient Patrick Kelly with marijuana possession and sales after they busted him with 12 ounces. Kelley was a registered patient, but did not have a doctor's recommendation that he needed more than the eight ounces envisioned by the legislative action. Prosecutors were wrong to charge Kelly, the court held.
"The CUA does not quantify the marijuana a patient may possess. Rather, the only 'limit' on how much marijuana a person falling under the act may possess is it must be for the patient's 'personal medical purposes,'" Justice Richard Aldrich wrote.
"The legislature... cannot amend an initiative, such as the CUA, unless the initiative grants the legislature authority to do so," Aldrich continued in the 7-2 opinion. "The CUA does not grant the legislature the authority to amend it without voter approval."
The unconstitutional provision was part of a 2004 bill by Sen. John Vasconcellos (D-Santa Clara) that sought to clarify the state's medical marijuana law. The following year, Vasconcellos got a bill passed that removed the cap language, but it was vetoed by Gov. Arnold Schwarzenegger, who argued that it removed "reasonable and established quantity guidelines."