A Connecticut prison guard gets busted, a pair of JFK airport Customs inspectors do too, an Arizona Border Patrol agent cops a plea, and a Connecticut narc heads to prison. Just another week in the drug war. Let's get to it: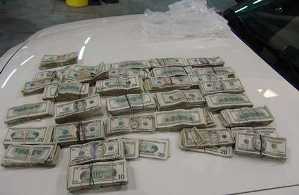 In Hartford, Connecticut,
a prison guard was arrested last week in a state police sting operation
after agreeing to smuggle heroin and a cell phone into a Suffield prison for an inmate. Corrections officer Connie Atkins, 43, met with an undercover police officer posing as a drug connection in Hartford on May 21 and took possession of a cell phone and what she thought was 28 grams of heroin. She was then arrested. Atkins faces charges of criminal attempt to possess narcotics, criminal attempt to convey narcotics into a correctional institution and criminal attempt to convey a wireless communication device into a correctional institution. She is out on bail, with a Superior Court hearing set for June 20.
In New York City, two Customs and Border Protection officers were arrested Wednesday, accused of taking bribes in a drug probe that snagged five other people as well. The so far unnamed CBP officers allegedly took bribes to look the other way as the other arrestees smuggled hashish and other drugs and contraband through Kennedy International Airport. The others arrested included two Customs brokers, an operations manager of a cargo cooperative, and two importers of counterfeit goods and controlled substances. They were due in court this week.
In Tucson, a Border Patrol agent pleaded guilty May 20 to smuggling more than 3,000 pounds of marijuana into the country in his government vehicle. Agent Juan Luis Sanchez pleaded guilty to drug smuggling, bribery, and workmen's compensation fraud. He admitted transporting at least six loads of marijuana ranging from 376 pounds to 921 pounds in 2002 and 2003. He also admitted receiving $45,000 in bribes. Sanchez will be sentenced August 13, when he faces up to life in prison, but a plea deal with prosecutors calls for a sentence of between 10 and 15 years.
In New Haven, Connecticut, a former New Haven detective was sentenced Tuesday to 15 months in federal prison after admitting he planted drug evidence and stole money from a crime scene. Former narcotics detective Justen Kasperzyk pleaded guilty last year to conspiracy to violate civil rights and theft of government property. He will report to prison June 24, where he can hang out with his old boss, former narcotics division head Lt. William White, who is doing 38 months for corruption.