Efforts in state legislatures to ban or otherwise restrict the sale and possession of salvia divinorum, a fast-acting, short-lived psychedelic member of the mint family, continue apace. So far, ten states -- Louisiana, Missouri, Tennessee, Oklahoma, Delaware, Maine, North Dakota, Illinois, Virginia, and Kansas -- have passed laws criminalizing or restricting the sale and possession of salvia. More than a dozen other state legislatures are considering criminalizing the drug.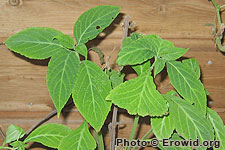 One state where that won't be happening this year is Alabama, where bills sponsored by Sens. Hank Erwin (R-Montevallo) and Roger Bedford (D-Russellville) that would have scheduled salvia like marijuana failed to move in the legislature. They died Tuesday night, the last day for bills to be passed in the chamber where they were introduced.
This marks the second year Alabama solons failed to act on a salvia measure. But Erwin and Bedford are undeterred and say they will be back again next year. They cited concerns for young people in seeking to criminalize the substance.
That was enough for the Kansas legislature and Gov. Kathleen Sibelius (D), who late last month signed into law a bill criminalizing salvia possession and sale in the Jayhawk State. That law went into effect last week.
The DEA, which is in charge of scheduling drugs at the federal level, has been reviewing salvia's status for several years, but has yet to determine that it qualifies as a dangerous drug needing scheduling under the federal Controlled Substances Act. But clearly, that isn't stopping legislators from going off half-cocked. A simple-minded and sensationalist press has been part of the problem, too, as Slate's Jack Shafer noted in Salvia Divinorum Hysteria, which is well worth the read.