Saturday was the first Saturday in May, which for more than 30 years has been marked by marches and demonstrations in support of marijuana legalization. Known alternately as the Million Marijuana March, International Marijuana Day, or the Global Marijuana March, this year's commemoration saw marches or protests in more than 200 cities across the globe.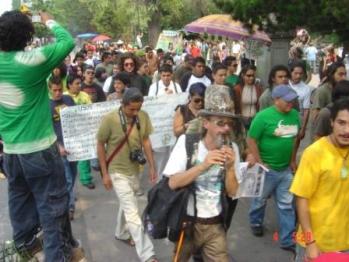 Most went over without problems or controversy, whether large or small, Some 10,000 people marched and toked in Toronto without significant problems, and thousands more celebrated in
Mexico City's Alameda Central
. In New York City, hundreds of people braved soggy weather in the annual march. Even smaller protests, like those in Rapid City, South Dakota, and Raleigh, North Carolina, came off without a hitch.
But in a relative handful of locations, local authorities responded with repression against the exercise of free speech on marijuana law reform. In Brazil, marches in a number of cities were blocked by court orders; in Belgium, police arrested activists on questionable grounds; in Russia, authorities quashed demonstrations; and in Australia, heavy-handed law enforcement led to numerous arrests and the closing of landmark venues at Nimbin, but failed to dampen spirits.
Here are some reports from the Global Marijuana March trouble spots:
Brazil: According to reports compiled by StoptheDrugWar.org translator and São Paulo resident Martín Arangurí, judges in nine Brazilian cities -- São Paulo, Rio de Janeiro, Salvador, Brasília, Belo Horizonte, Cuiabá, Curitiba, João Pessoa, and Fortaleza -- blocked planned marches as "apology" for the crime of drug use. In four other Brazilian cities -- Vitória, Porto Alegre, Florianópolis, and Recife -- marches went on as planned.
The Brazilian judges fell in line behind the arguments of officials like São Paulo prosecutor Marcelo Luiz Barone, who told CBN Radio, "If I encourage someone to use drugs, I am practicing a behavior as criminal as drug trafficking."
Similarly, the Rio de Janeiro attorney general's office argued that "the situation offered as a pacific political demonstration camouflages an action for the diffusion of drug use, which is a crime".
Brazilian activists didn't take the bans lying down. In São Paulo, under strong police presence, nearly 200 people gathered to protest the judicial gag on freedom of speech. They were told not to walk, otherwise they would be arrested. "What can't happen is a walk, if they stay put, there's no problem", said Major Wanderley Rodrigues of the São Paulo Military Police in in comments reported by the newspaper Folha de São Paulo on Sunday. That is exactly what people did: a "parada", which in Portuguese means a parade, but also "stopped." In all, authorities arrested 20 people across the country.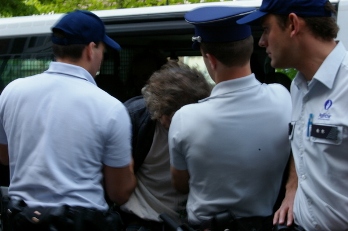 As Brazilian organizers
complained
, "the drug trade was never really debated by Brazilian society, which is what makes it possible for things to continue to be this way: see the murders committed by the BOPE (Special Police Operations Squad) on Rio's hills." Perhaps now, with the attention focused on the issue by the march bans, that will start to change.
Belgium: Despite Belgian laws allowing citizens to grow a single marijuana plant for personal use, police in Antwerp Saturday arrested four members of Trekt Uw Plant (Grow Your Plant) as they attempted to publicly plant a single marijuana seed each.
According to Trekt Uw Plant member Joep Oomen, a Belgian citizen and coordinator of the European Coalition for Just and Effective Drug Policies (ENCOD), "Four members of Trekt Uw Plant were arrested on the accusation that they planted a cannabis seed. A little later some others were arrested because they were protesting against the initial arrests. Today thankfully, everyone is safe and free. After six hours of detention and interrogation, the marijuana march could continue and was visited by 150 people," Oomen wrote.
"Books, T-shirts and flyers have all been confiscated, as well as 84 cannabis seeds, and four people were found with (each less than the officially tolerated 3 grams) cannabis on them," Oomen continued. "The police action seems to be politically motivated by the lord mayor of Antwerp, Patrick Janssens (also known as El Kapoen), who apparently ordered this directly without consulting the prosecutor nor the public order section of the Antwerp police force, who had initially given us permission to realize the event knowing perfectly well what we were going to do: plant a seed of one cannabis plant for each member of the Trekt Uw Plant association."
Police manhandled the arrestees, and the arrests and mistreatment provoked a reaction from the crowd, Oomen reported. "The march, which was not intended as a blow in, or open air cannabis consumption room [or a smoke-in, as we would call it in the US], became a blow-in after the intervention of the police, as a natural consequence of the fact that people came together on that place and the police fear of for further escalation." (More Antwerp demo pictures can be found online here.)
Russia: Heavy-handed authorities once again quashed Global Marijuana March activities, although not as brutally as they did last year, when several attendees were arrested and beaten by police. According to a report from the Moscow-based Legalize Cannabis League published by the British marijuana news agency Cannazine, activists sought to prevent a replay of last year by announcing there would be no march this year, only a meeting at the "Friendship of Nations" fountain at the All-Russia Exhibition Center.
"As soon as the statement was published we received an aggressive reaction from the Federal Service of Drug Control (Russian DEA analog)," the activists reported. Russian authorities denounced the event as intolerable.
"Legalization of cannabis as a drug is out of the question," said FSDC spokesman Alander Mikhailov in an interview with Russian media. "This theme mustn't be discussed at all. Such actions are the grossest breach of the peace and hooliganism. This is a spring provocation to which the bodies of internal affairs and psychiatrists should react."
Russian police backed up their tough talk with tough action on Saturday, the activists reported: "When we arrived at the 'Friendship of Nations,' we found out that the fountain was blocked by forces of OMON and metal fences. Members of OMON and plain-clothes special police pulled from the crowd everybody who seemed suspicious to them no matter if it was a Rastafarian, a punk, an emo or just a long-haired guy. In a few minutes eight persons were arrested without any reasons. Some of them knew nothing about the action and came to the All-Russia Exhibition Centre just to have fun on the holiday. All the journalists who managed to film the arrests were forced to erase their videos and photos under threat of arrest and/or spoiling their cameras."
A few minutes later, as it became apparent police were about to make more arrests, the author of this report tried to get away: "I was lucky to reach the exit from the All-Russia Exhibition Centre when the heel of a non-uniformed person stopped me. Two seconds of free-fall -- and I was lying on the ground. As I wasn't able to stand up myself the members of OMON began to beat me. I don't remember the moment I got to the military bus. The left side of my body was injured but the men in the bus denied me in any medical assistance. I could receive some help only in the police station."
After some 15 activists were detained for two hours, they discovered why they had been arrested. "The reason for our detention was that the FSDC just wanted to speak to us about the harms of drug and any actions devoted to their legalization," the activist wrote. "It sounded very funny and absolutely illegal. After three hours at the police station, all of us were released from custody without any claims, fees or protocols and could continue the Cannabis Walk."
But the effects of Saturday's events will linger. "As a result of this amiable drug education lesson with the representatives of law I now have a fracture of a clavicle and several less painful but much more effective injuries -- a good illustration of their methods of leading discussion as well as a good occasion for further legal struggle," the Russian activist wrote.
Australia: The annual Mardi Grass festival in Nimbin took place on schedule for the 16th straight year, but not without a heavy police riot squad presence, numerous arrests, a preemptive April Fool's Day raid, and the preemptive closure of two Nimbin icons, the Hemp Museum and the Hemp Bar, on the suspicion that marijuana had been sold there in the past. Still, some 15,000 people showed up to enjoy themselves and support marijuana legalization.
Police reported a total of 85 people either cautioned or charged with minor drug offenses at the festival, with an additional 42 people caught by drug-sniffing dogs outside the township. Of those, 38 received cautions. Police also cautioned "hundreds" of people for drinking in alcohol-free zones and arrested eight people for drunk driving after subjecting more than 2,500 people to random breath tests.
Organizers complained that police crackdowns on pot had led to an increase in alcohol and hard drug use at the festival, but added that the law enforcement operation had only advanced the cause. "It was a great Mardi Grass regardless, and we want to thank the New South Wales Police for reinvigorating interest in cannabis law reform," Help End Marijuana Prohibition (HEMP) Embassy spokesman Michael Balderstone told the Echo News. "Oppressions bring out the true believers, and we heartily thank the hundreds of volunteers, both local and international, who missed much of the festival to create it for the rest of us."
Recalcitrant local authorities may attempt to repress marijuana legalization activities, whether in Rio or Moscow, Antwerp or Nimbin. But in each instance where they have attempted to silence the cries for drug war justice, they seem only to have raised the profile of the issue.