Police in New York City arrested more than 39,700 people on marijuana charges last year, and that is no fluke. In the last decade, nearly 400,000 New Yorkers have been arrested for carrying small amounts of marijuana, the vast majority of them black or brown.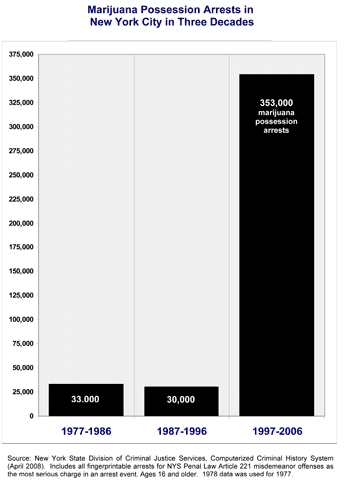 The figures come from a just released report by Queens College sociologist Harry Levine and Breaking the Chains executive director Deborah Small. According to the report, "Marijuana Arrest Crusade," whites constituted only 15% of those arrested, while Hispanics were 31% and blacks made up more than half of all pot arrests, with 52%.
"Racial profiling is a fact of life on the streets of New York City," said Donna Lieberman, executive director of the New York Civil Liberties Union, during a news conference at the group's Manhattan headquarters.
New York is among the small number of states that decriminalized marijuana possession in the late 1970s, but that hasn't stopped police from arresting people carrying small amounts of weed and then subjecting them to average 24-hour stays in New York City jails while they await arraignment. Police get around the decrim law by "manufacturing" arrests for "possession in public view," said Levine. Police routinely stop young black and brown men on the streets, force them to empty their pockets, then charge them with the more serious "possession in public view" offense.
Since Big Apple marijuana arrests started going through the roof during the administration of Mayor Rudolf Giuliani, the city has sometimes accounted for one out of 10 marijuana arrests in the entire country. Last year, that figure was lower, with New York accounting for roughly 5% of pot arrests nationwide, still a huge number.
That makes New York City "the marijuana arrest capital of the world," said Lieberman.