The US Supreme Court agreed Monday to hear a case that could clarify limits on when police using an informant may enter a residence. The case is Pearson v. Callahan (07-751), in which five members of the Central Utah Narcotics Task Force are being sued by a man whose home was searched without a warrant after an informant bought methamphetamine inside.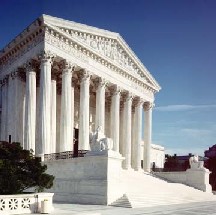 In 2002, a snitch working with the task force bought $100 worth of meth from Afton Callahan inside Callahan's trailer in Fillmore, Utah. Once the officers waiting outside received the snitch's signal via wire that the deal had gone down, they entered and searched the trailer and arrested Callahan for sale and possession of meth.
Callahan moved to have the evidence suppressed because a warrantless search is unconstitutional, but a state court trial judge rejected that motion. Callahan then agreed to a conditional guilty plea while appealing the Fourth Amendment issue. A state appeals court later agreed with him and overturned his conviction.
Callahan then turned around and sued the task force members for violating his Fourth Amendment rights. The officers then argued that they were immune under the doctrine of "qualified immunity," which holds that government officials cannot be held liable for violating a law that was not clear at the time. A federal district judge, Paul Cassell, ruled in 2006 that the police were entitled to immunity, even if the search was unconstitutional, but the US 10th Circuit Court of Appeals in Denver overruled Cassell, holding that the Constitution was so clear on the need for a warrant that no reasonable police officer would have proceeded without one.
Lawyers for the police officers then appealed to the US Supreme Court, which will have to decide both the search and the immunity questions. But despite what the 10th Circuit held, the federal courts are divided on whether a warrant is necessary in those circumstances. Some federal circuits -- but not the 10th -- have created the strange notion of a "consent-once-removed" exception to the Fourth Amendment. Under that theory, someone who consents to the entry of an undercover police informant is also consenting to the entry of police as well -- even if he doesn't know it. Because the resident gives permission to the snitch to enter, he has also given permission for the police to enter, this novel doctrine holds.
Now, the US Supreme Court will decide if there will be yet one more addition to the holes in the Fourth Amendment created by the drug war. And whether police who conduct unconstitutional searches will have to pay for them.