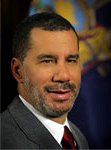 New York Gov. David Paterson unapologetically admitted to having used cocaine and marijuana in
a television interview on NY1 News
over the weekend, and for the most part, the revelation was greeted with a collective yawn. A handful of professional anti-drug advocates could be found to express their dismay, but otherwise, it appeared as if admissions of past drug use by politicians don't carry much negative weight anymore.
In his first TV interview since becoming governor in the wake of Eliot Spitzer's prostitution scandal and subsequent resignation, Paterson was asked by host Dominic Carter if he had ever used illicit drugs. Paterson responded that he had spoken publicly about the issue during the 2006 campaign:
Dominic Carter: You have?

David Paterson: Yes

Dominic Carter: Marijuana?

David Paterson: Yes

Dominic Carter: Cocaine?

David Paterson: Yes

Dominic Carter: You used cocaine, governor?

David Paterson: I'd say I was 22 or 23, I tried it a couple of times, yes.

Dominic Carter: When is the last time that -- is that the only time you've tried cocaine, governor?

David Paterson: Yeah, around that time, a couple of times and marijuana, probably, when I was about 20. I don't think I've touched marijuana since the late 70s.
Such admissions once marked a death knell for public office, as attorney Douglas Ginsburg found out early in the Reagan administration, when his admission of previous pot-smoking saw his nomination to the Supreme Court go up in smoke. But in recent years, politicians including former New York Gov. George Pataki, current New York City Mayor Michael Bloomberg, and, of course, former President Bill Clinton have all admitted to past marijuana use, with no apparent impact on their political viability. More recently, Sen. Barack Obama's admission of youthful cocaine and marijuana use does not seem to be dragging him down.
But that didn't stop Calvina Fay, director of the Drug Free America Foundation, from worrying that admissions like Paterson's "send the wrong message" to America's youth. Politicians need to accompany such admissions with anti-drug propaganda, she suggested in an interview with the New York Sun. "It's really their responsibility to take that extra step and to talk about how it's not something they are proud of. It's not something that is smart, that they were literally risking their life, and risking their future, so that our children don't get the idea that you can just do drugs and someday be governor," she said.
Joe Califano, head of the Center on Alcohol and Substance Abuse (CASA) at Columbia University, echoed the thought. "I think they ought to be honest but I think they also have to say this is not something you should do," he said. "That other piece is very important."
But in an interview with Newsday columnist Ellis Hennican, Drug Police Alliance executive director Ethan Nadelmann said the number of drug users in America had reached critical mass and it was time for "a more realistic" discussion of drug use.
"With numbers like these, the notion that someone has to lie is ludicrous at this point," said Nadelmann. "Look at the cohort of people age 30 to 60," he said. "A pretty substantial minority has done cocaine. Despite all the drug-war rhetoric, the vast majority of people who used cocaine did not go on to develop a coke habit or end up in terrible states. Some did. But the addiction rate was probably similar to that of alcohol."
One more politician has come out of the closet. Not only is Gov. Paterson an example to other elected officials, he is also in a position to do something about New York's draconian Rockefeller drug laws. Let's see if he can offer up something other than mere memories.