A dozen years after California voters ushered in the age of legal medical marijuana by supporting Proposition 215, the legal use of the herb for medicinal purposes has spread to 11 other states -- Alaska, Colorado, Hawaii, Maine, Montana, Nevada, New Mexico, Oregon, Rhode Island, Vermont and Washington -- but in recent years, progress has been excruciatingly slow.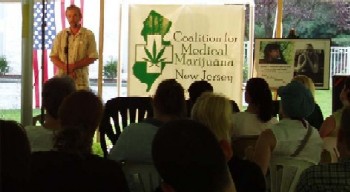 The last statewide initiative to go to voters failed in 2006 in South Dakota -- the only state where voters have rejected an initiative legalizing medical marijuana -- and last year, it took Herculean efforts by New Mexico Gov. Bill Richardson (D) to revive and rescue the medical marijuana bill there, making the Land of Enchantment the only state to be added to the list of medical marijuana states in 2007. (Rhode Island legislators, who had passed a sunsetted bill in 2006, made it permanent last year.)
This year, serious efforts to pass medical marijuana laws at the state house are underway in several more states, with most of the efforts being run by local groups backed by either the Marijuana Policy Project (MPP) or the Drug Policy Alliance (DPA). Here's a look at the states where there has been or will be action at the state house on medical marijuana:
Alabama: A medical marijuana bill was introduced last week by Rep. Laura Hall (D), but has yet to be assigned a bill number. This will mark the second year in a row that Alabama legislators have had a medical marijuana bill before them. There will be hearings this year, said Loretta Nall, executive director of Alabamians for Compassionate Care, the local group coordinating the effort to pass the bill.
One of those who will testify is Jacki Phillips, whose son, Michael Phillips, had testified in support of medical marijuana in the past. Michael Phillips, who throughout his life suffered from seizures related to brain tumors, died last December in a New Orleans hotel room during the DPA conference.
"I'm going to tell those lawmakers that the system killed my son," said Phillips. "I truly believe that if he could have gotten the marijuana and it had been regulated like other seizure medicines, he would be alive today. I'm not asking them to legalize it for potheads," she said, "I'm a Southern Baptist and I believe God gave you a brain to use, but using marijuana for medical purposes would help a lot of people."
Marijuana didn't stop Michael Phillips' seizures, his mother said, "but it gave him the chance to function on a normal level for a period of time." When he smoked marijuana, she said, he would still have seizures, but their frequency and intensity was greatly reduced.
Connecticut: After seeing a medical marijuana bill pass the legislature there last year only to be vetoed by Gov. Jodi Rell (R), activists there have found little traction on the issue this year as the legislature debates other criminal justice and drug policy issues.
"We were emboldened last year and then deeply disappointed that people still essentially have to commit a crime to get access to medicine," DPA policy director Gabriel Sayegh told the Hartford Business Journal earlier this month. But despite little progress this year, "there is no doubt we are going to continue with this," he vowed.
Illinois: A medical marijuana bill, SB 2865, has passed committee votes and is now headed to the Senate floor, but its House companion bill, HB 5938, lost a committee vote this week. Still, that doesn't mean the measure is dead.
"Unlike many states, losing a committee vote doesn't kill your bill," said MPP's Mirken, who spent part of this week at the state capitol in Springfield accompanying patients as they lobbied legislators.
MPP and local reform groups IDEAL (Illinois Drug Education and Legislative Reform) and Illinois Compassion Action Network are keeping the pressure on. This week, MPP released a poll showing 68% support for medical marijuana in the state.
Kansas: The first effort at passing a medical marijuana bill in Kansas, supported by the Kansas Compassionate Care Coalition and former Republican Attorney General Robert Stephan, ended a couple of weeks ago, bottled up in committee by a hostile committee chair. While disappointing, that is hardly surprising, given the torturous legislative process facing any new bill.
Kansans should not be disheartened that they did not achieve victory in their first try, said MPP's Mirken. "It has been a multi-year struggle in all the states that have passed these laws," he said. "It's no surprise that it will take more than one year in Kansas."
Minnesota: Last year, a medical marijuana bill passed the state Senate, but died of inaction in the House in the face of veto threats from Republican Gov. Tim Pawlenty. But MPP and local affiliate Minnesotans for Compassionate Care are again working with friendly legislators. A Republican House member, Rep. Chris DeLaForest, is cosponsoring a House bill this year.
Minnesota's is a two-year legislative session, so that means only a House bill must pass this year, provided it is congruent with the already passed Senate bill.
"We are sitting in the House waiting for it to be brought up," said Mirken. "We're hoping it will pass and the governor will see the light."
New Jersey: For the fourth consecutive year, a medical marijuana bill, AB 804 has been introduced by Assemblyman Reed Gusciora (D-Mercer) and a companion bill has been introduced in the state Senate. DPA's New Jersey office is working the legislature, but there seems little likelihood the Senate will act.
"The Senate has always been the hold-up," said Ken Wolski, RN, executive officer of the Coalition for Medical Marijuana-New Jersey. "Although Gov. Corzine has said he would sign a bill if it gets to his desk, the Assembly doesn't really want to mess with it if the Senate won't move on it, so here we are."
New York: A medical marijuana bill, SO4768, initially introduced last year was reintroduced in January. It passed the Assembly last year, but was referred at that time to the Senate Health Committee where it has languished ever since. Given the turmoil in Albany in the wake of this week's resignation of Democratic Gov. Eliot Spitzer, said MPP's Mirken, it will take awhile for the dust to settle. "We're trying to figure out how the Spitzer follies will change the situation, " he said. "While we have some hopes for New York, at this point, medical marijuana is not on the top of anybody's agenda."
One optimistic sign, said Mirken, was that the new governor, David Paterson, is on much better terms with Republican Senate majority leader Joseph Bruno. Another is that, like Minnesota, New York has a two-year session, so a bill will not have to again pass the Assembly.
The medical marijuana movement has mowed its way through most of the low-hanging fruit of the initiative states and now faces the long, hard slog through the legislative process if it wants to get more states on board. While it is less expensive to attempt to win in the legislature than at the ballot box, it is also much more difficult and complicated.
"A lot of politicians are needlessly skittish about the politics of this," said Mirken. "If it were just a vote on the merits, it would pass today. Everywhere, we can produce polling numbers to show these guys a medical marijuana vote is not going to hurt them, but there is a deeply ingrained fear of being portrayed as soft on drugs, and that's very difficult to overcome. It's a real struggle," he said.
When pressed on where victories might come this year, Mirken was careful. "I'd say there was a fighting chance in Illinois, Minnesota, and New York, but in an election year, politicians are more timid than usual," he offered.
The real best shot this year, he said, is likely Michigan, where an initiative has been approved for the November ballot.