A ban on tobacco smoking in public places in Holland has the country's famous marijuana coffee shops worried. Due to go into effect July 1, the ban does not apply to pot smoke, but because many European cannabis consumers mix tobacco into their joints, coffee house owners fear they are going to lose customers.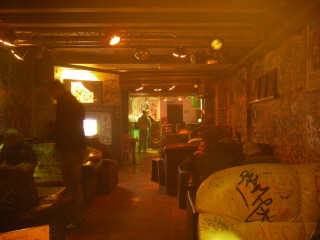 After July 1, anyone smoking a Euro-style joint laced with tobacco in a coffee house will be violating the law. The Dutch coffee shop association lobbied hard to win an exemption, but to no avail.
"Coffee shops will be treated in the same manner as other catering businesses," Prime Minister Jan Peter Balkenende, a foe of the coffee shops, said last week. "It would have been wrong to move towards a smoke-free catering industry and then make an exception for coffee shops. People would not have understood that."
That's not going over well with tobacco and coffee shop industry representatives interviewed this week by London's The Independent. They decried the paradoxical situation the new law will create and warned that it could hurt business. That may already be happening. A Dutch industry publication cited by The Independent says the number of coffee shops for sale has jumped almost 25% because of the impending tobacco ban.
"The new rule is nonsense," said Willem Panders, of the Dutch tobacco traders' union. "It will be almost impossible to enforce because how are you going to check if someone is smoking cannabis mixed with tobacco, or pure cannabis?"
"In a cafe you come to drink something. In a restaurant you come to eat. But when you come to a coffee shop you come to smoke, so smoking has to be allowed in a coffee shop," argued Marc Jacobsen, a representative of the coffee shop owners association.
The new rules are "absurd," said Sandy Lambrecht, manager of the Bulldog coffee shop on Amsterdam's Leidesplein. "You come to a coffee shop to smoke, after all -- it's ridiculous that we have to comply. The new rules are meant to protect employees like me, but the point is that we chose to work here."
While in some countries, bar and club owners have responded to bans by creating glassed-off smoking sections or outdoor patio smoking areas, many Dutch coffee shops are crammed into tiny premises with little space indoors and no access to outdoor space.
The Bulldog is among the coffee houses with room to accommodate tobacco smokers. "We're now having to build a new section in our coffee-shop with a glass partition and special air filters for those who choose to smoke non-pure cannabis," said Lambrecht. "It's a shame as it will change the very congenial ambience in here -- half of our customers will be shut off behind a glass wall. Our customers will grumble, that's for sure."
For the Dutch Health Minister, Ab Klink, putting a crimp in coffee house business is just frosting on the anti-tobacco cake. "A positive side effect of the smoking ban," he said, "may be that consumers who spend the whole day hanging out in coffee shops will find other things to do."