Afghan police found and destroyed a whopping 260 tons of hashish near Spin Boldak in Kandahar province near the Pakistan border Monday. The contraband cannabis was buried in trenches and bunkers in the desert, and the stash was so extensive that NATO called in two aircraft to bomb it. Also found was five tons of opium.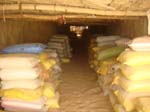 In a
Wednesday press release
, NATO's International Security Assistance Force (ISAF) claimed to have struck a major blow against the Taliban, which is strong in Kandahar and widely thought to profit handsomely -- along with many other actors -- from the Afghan drug trade.
"With this single find, the police have seriously crippled the Taliban's ability to purchase weapons that threaten the safety and security of the Afghan people and the region," said General David McKiernan, commander of ISAF, the International Security Assistance Force.
The hash had an estimated regional wholesale value of $400 million. ISAF officials estimated that the Taliban would have pocketed about $14 million from the sale of the drugs. But despite McKiernan's claim, that's chump change compared to the hundreds of millions of dollars the Taliban is estimated to make each year from the opium trade.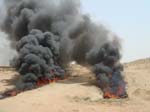 The seizure of such a massive quantity of hashish should also raise questions about the Afghan government's overall anti-drug program. While Afghan and Western officials praised Afghanistan for eradicating opium production in some northern provinces last year, it appears farmers there simply switched over to cannabis.
Still, NATO and the West were patting themselves and their Afghan partners on the back. "This was the largest ever single find of narcotics in history," British Foreign Secretary David Miliband said in a statement. "It reflects the efforts of the Afghan government against the drug trade, and was so large that two aircraft were brought in to destroy the underground bunker in which the hashish was being stored."
"The Afghan National Police Special Task Force has made a huge step forward in proving its capability in curbing the tide of illegal drug trade in this country," said General McKiernan. "The international community will continue to support the Afghan forces with more of the same training and support that helped them achieve such success in this mission."
Meanwhile, according to the UN Office on Drugs and Crime's most recent report on the Afghan crop, Afghan opium production this year looks to maintain its record high levels. The country currently supplies more than 90% of the world's opium.