The Washington Supreme Court ruled July 17 that police cannot arrest passengers simply for being in a car that smells of marijuana. The unanimous decision overturned a 29-year-old precedent allowing police to search or arrest passengers if they smelled pot near a car.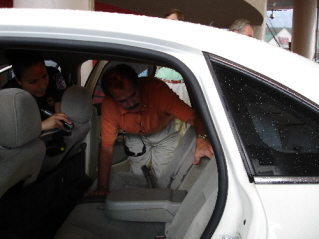 The case,
State v. Grande
, began with a 2006 traffic stop in Skagit County. Driver Lacee Hurley and passenger Jeremy Grande were arrested by a state trooper during a traffic stop after he smelled pot coming from their car. The trooper searched the pair, finding a pipe and a small amount of pot on Grande. Both were charged with drug offenses. At a pretrial hearing, Grande's judge ruled there was no specific probable cause for his arrest and suppressed the evidence. But the Skagit County Superior Court overturned that ruling, citing a 1979 appellate court ruling saying the smell of pot smoke coming from a car was probable cause to arrest all the occupants.
But the state Supreme Court said federal case law since 1979 has eroded the legal footing of that decision. Officers need additional evidence that each passenger broke the law, the court held.
"Our cases have strongly and rightfully protected our constitution's protection of individual privacy. The protections... do not fade away or disappear within the confines of an automobile," Justice Charles Johnson wrote for the court.
"We hold that the smell of marijuana in the general area where an individual is located is insufficient, without more, to support probable cause for arrest. Where no other evidence exists linking the passenger to any criminal activity, an arrest of the passenger on the suspicion of possession of illegal substances, and any subsequent searches, is invalid and an unconstitutional invasion of that individual's right to privacy," the opinion concluded.
The ruling won quick praise from drug reformers and civil libertarians. "As a general statement, it's a step back from the direction that our government has been going as we're veering into a sort of surveillance society," Alison Holcomb of the American Civil Liberties Union's Washington chapter told the Seattle Post-Intelligencer. "It strikes me as refreshing that the court has reaffirmed the values that our constitution calls for."
Seattle Hempfest organizer Vivian McPeak told the newspaper it was not uncommon for people to be arrested, jailed, stigmatized, and have their property seized simply for being in a vehicle with someone carrying or smoking pot. "A lot of people have gone down because of these vehicle offenses," he said. "Being in a car used to be one of those wrong-place, wrong-time kind of situations."
Grande's attorney, David Zuckerman, cheered the ruling, but added it was "unfortunate" it took so long to overturn previous state case law on drug-smell arrests. "I think it's led to an awful lot of innocent people getting handcuffed by the side of the road just because they happened to be in a car that smells of marijuana," Zuckerman said.