South Dakota's annual Sturgis Motorcycle Rally begins next weekend and, as usual, is expected to draw huge crowds of motorcycling enthusiasts. Eric Sage won't be one of them. Instead, he will be busy suing a South Dakota county, its prosecutors, and a Highway Patrolman over what happened to him when he went last year.
In addition to the hordes of bikers, the rally also attracts the attention of South Dakota law enforcement, with the state pulling large numbers of Highway Patrol troopers from East River to the Black Hills, where they lurk on the sides of highways like vultures waiting for their prey. And, if Highway Patrol statistics are any indication, the hunting is good.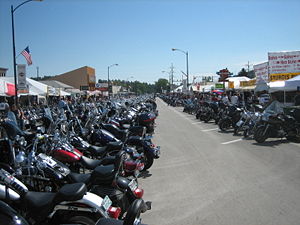 Most weeks, state troopers make
a handful of felony drug arrests and three or four dozen misdemeanor ones
. Last year during Sturgis week, the Highway Patrol bragged that it had made a whopping 38 felony and 192 misdemeanor drug arrests.
Eric Sage and three of his friends made up four of them. As we reported last year, Sage was driving a motorcycle home from the rally while his three friends convoyed with him in a pick-up truck. Sage was pulled over for "weaving" in his own lane by a state trooper, and the pick-up stopped a ways up the road to wait for him. The trooper, Dan Trautman, then asked for and received permission to search the pick-up, and found a pipe and a miniscule amount of marijuana. He then charged all four with possession of paraphernalia, including Sage, who wasn't even in the vehicle.
Sage refused to plead guilty to a crime he had not committed. Then, just before an October dispositional hearing, Gina Nelson of the Pennington County state's attorney's office left a message on Sage's phone: "If you don't plead to 'paraphernalia', we'll charge you with 'ingestion'" -- an offense unique to South Dakota.
South Dakota Codified Law 22-42-15 prohibits ingesting anything except alcohol for the purpose of intoxication, and they'll put you in jail for as long as a year, and fine you as much as $1,000, for wanting to get "high" instead of drunk. It also doesn't matter if you were even in South Dakota when you ingested the drug: "The venue for a violation of this section exists in either the jurisdiction in which the substance was ingested, inhaled, or otherwise taken into the body or the jurisdiction in which the substance was detected in the body of the accused."
The basis for the ingestion charge was the admission by one of the pick-up passengers that she had smoked marijuana with her friends earlier in the day. As Trautman put it on his dashboard video, "You have all just admitted to smoking marijuana." Of course, that was not the case, but it was the basis for the prosecutorial intimidation effort.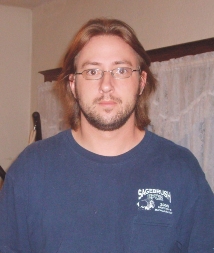 Sage rejected the intimidating plea offer from Nelson and dutifully drove once more the 500-mile round trip from his Nebraska home to appear in court on the appointed day, only to find that Nelson had dropped the charges without bothering to notify him. Out several thousand dollars in legal fees, travel expenses, and lost wages, Sage wanted justice for his bogus arrest and prosecution.
Assisted by long-time activist Bob Newland, head of South Dakota NORML, whom he had contacted shortly after his arrest, Sage sent letters of complaint to the state Department of Public Safety, the South Dakota Bar Association, and the Pennington County Commission. In the latter letter, he also demanded damages.
Not surprisingly, he struck out with state and local authorities. Neither the county commission nor the Highway Patrol would pay his expenses incurred, nor would they even apologize for the mistreatment.
"The county commission gave the first complaint I sent them to the state's attorney's office and -- go figure! -- they lost it," Sage recounted this week. "When I sent a copy to all five commissioners, all I got was a letter from the state's attorney saying he would not respond. The Highway Patrol gave me the finger, basically saying that if I couldn't accept a frivolous charge every now and then, I should stay off their highways."
Sage had slightly better luck with the bar association. After claim and counter-claim by Sage and prosecutor Nelson, the bar found that Nelson had indeed violated two bar association precepts, the duty not to file unfounded charges and the duty not to unduly burden innocent parties. The bar punished Nelson for her prosecutorial misdeeds by "admonishing" her not to do it again.
That wasn't enough for Sage. On Tuesday, he filed a lawsuit against Pennington County, Pennington County Deputy State's Attorney Nelson, her boss, State's Attorney Glenn Brenner, and Highway Patrolman Trautman. The lawsuit seeks damages of slightly over $4,000 to compensate Sage for his malicious arrest and subsequent malicious prosecution.
The prosecutor's office did not respond to a call for comment.
"They wasted my time and my money for something they didn't have the least bit of evidence to prove even took place," Sage said. "If I don't get my money back, at least I'll get my money's worth."
"What happened to Eric Sage was outrageous," said South Dakota NORML's Newland. "To be honest with you, by this point I'm almost numb to their outrages, but after I heard his story, I thought, wow, this one is strange. They do a lot of bogus busts around here, but usually they at least have a shred of evidence."
Whatever the outcome of his civil suit, Sage is through with South Dakota. "I went to Sturgis three times in the past few years, and it just gets worse every year. If you see a cop, they're pulling someone over. They're just fishing for busts and the money they can make off them," Sage said. "I'm not going there again. I'm not going to South Dakota again. If I need to go to North Dakota, I'll go over to Iowa and Minnesota to get there."
"You don't even have to break the law to get stopped," said Newland. "Highway Patrolmen swarm the area between Sturgis and the Buffalo Chip campground a few miles away. For Sturgis week, that stretch of road is the most dangerous in America -- for getting busted. During peak traffic hours, the Highway Patrol is doing nothing but pulling over vehicles."
As for Sage, he has the following advice for anyone planning to head for Sturgis next week. "Good luck with that. Let me know how it turns out, because I won't be going. Know your rights."