One of New Mexico's first registered medical marijuana patients is suing Eddy County Sheriff's deputies for seizing his marijuana plants and grow equipment and turning them over to the DEA. Leonard French of Malaga received a license to grow and use marijuana for pain resulting from a spinal cord injury, but that didn't stop the Pecos Valley Drug Task Force, headed by Dave Edmundson of the Eddy County Sheriff's Department, from seizing his plants and equipment shortly after he began growing last summer.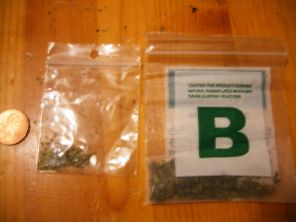 Now, with the help of the ACLU of New Mexico, French has filed a
lawsuit
in state court seeking a declaratory judgment that the task force's actions violated the state's medical marijuana law, the Lynn and Erin Compassionate Use Act, as well as its asset forfeiture statute; an injunction to stop the task force from again raiding French and his garden; and compensatory damages for his stolen property.
"The New Mexico state legislature, in its wisdom, passed the Compassionate Use Act after carefully considering the benefits the drug provides for people who suffer from uncontrollable pain, and weighing those benefits against the way federal law considers cannabis," said Peter Simonson, ACLU executive director, in a press release announcing the lawsuit. "With their actions against Mr. French, Eddy County officials thwarted that humane, sensible law, probably for no other reason than that they believed federal law empowered them to do so."
When at least four Eddy County deputies acting as members of the Pecos Valley Drug Task Force showed up at French's home last September 4, he thought they were checking his compliance with the medical marijuana law, so he presented them with his license, and showed them his grow, which consisted of two small plants and three dead sprouts. They then turned the plants and the grow equipment over to the DEA, which does not recognize medical marijuana or the state laws that permit its use. French has not been charged with any offense under either state or federal law.
"With the Compassionate Use Act, New Mexico embarked on an innovative project to help people who suffer from painful conditions like Mr. French's," said Simonson. "The law cannot succeed if the threat of arrest by county and local law enforcement hangs over participants in the program. With this lawsuit, we hope to clear the way for the State to implement a sensible, conservative program to apply a drug that traditionally has been considered illicit for constructive purposes."
And maybe teach some recalcitrant cops a lesson about obeying the law.