A bill to ban the hallucinogenic herb salvia divinorum was approved by a vote of 98-0 in the Virginia House of Delegates Tuesday, paving the way for the Old Dominion to join the handful of states and localities that have already criminalized the member of the mint family. The measure now moves to the state senate.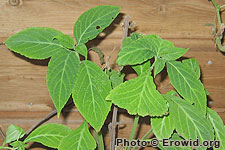 Salvia divinorum produces powerful but short-lived psychedelic effects. Once obscure, it has become increasingly well-known thanks to Internet-spread word of mouth. While the DEA considers it a "drug of interest," the agency has yet to move to designate it a controlled substance, and it remains freely available over the Internet or at various retail outlets in locales that have not banned it.
Sponsored by Delegate John O'Bannon (R-Henrico), HB21 would move salvia from unrestricted status to a Schedule I controlled substance under Virginia law. O'Bannon said he introduced the bill after receiving suggestions he do so from law enforcement.
"It's really not a pleasant thing to take. It can cause bad trips, dysphoria and sweats," O'Bannon said, in remarks reported by The Commonwealth Times, the student newspaper at Virginia Commonwealth University and the only Virginia media outlet to pick up the story.
Which is why, despite all the hullabaloo, salvia has not emerged as a popular drug. Most users are quite happy to limit themselves to using it once or twice.
O'Bannion demonstrated an idiosyncratic view of individual liberties as he discussed his bill. "I'm respectful of individual liberties and public good. I think what's happening is this is becoming a drug that can be misused," O'Bannon said. "Putting it on the Schedule I will not harm anybody," he said, but would make "a reasonable balance between public safety and civil individual liberties."
Of course, putting salvia on Schedule I, where its users would be subject to the same prison terms as the users of other proscribed drugs, would harm those people unfortunate enough to be arrested with it. But O'Bannion and his fellow delegates apparently didn't consider the impact that being caged in jails or prisons for long periods of time has on individual liberty.