If state Attorney General Jon Bruning has his way, Nebraska will soon join the short list of states that have criminalized the sale and possession of salvia divinorum. In a Monday press release setting his key legislative priorities, Bruning announced that banning salvia was one of his top three. (The other two were eliminating intoxication as a defense in considering the mental state of a defendant and moving against certain types of scam artists.)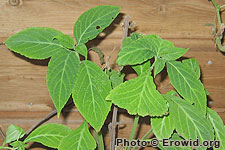 The obscure plant, a member of the mint family native to southern Mexico, is a potent, fast-acting hallucinogen and has achieved a certain measure of popularity among recreational drug users in recent years. But because of its powerful disorienting effects, it is not one most people use repeatedly.
The DEA has had the drug under consideration for several years, but has yet to announce any plans to move it under the rubric of the Controlled Substances Act. Several states, most recently Illinois, and a handful of local municipalities, have banned it.
It is time that Nebraska joined that group, Bruning said. "Salvia is a powerful hallucinogen that can be purchased legally. This legislation will make it illegal and put it on par with other powerful drugs like peyote, psychedelic mushrooms and LSD," said Attorney General Bruning. "Several other states have already made salvia illegal. It's time to add Nebraska to the list."
In the measure he describes as "protecting Nebraska kids," Bruning would submit them -- and Nebraska adults -- to up to five years in prison for possessing the plant, and to 20 years for selling it.
"Videos of teens using this common plant to get high have become an internet sensation," said Sen. Vickie McDonald of St. Paul, who will sponsor the legislation. "Nebraska needs to classify salvia divinorum and its active ingredient, salvinorin A, as a controlled substance in order to protect our children from a drug being portrayed as harmless when it's not."