Richard Brunstrom, the Chief Constable of North Wales, has created a firestorm with comments made to the BBC that drug legalization is both desirable and inevitable and that ecstasy is "safer than aspirin." In response, anti-drug campaigners, politicians, and elements of the British tabloid press are calling for his head.
"I think that the legalization and subsequent regulation of proscribed drugs is now inevitable, and I think it's ten years away, not ten months away," Brunstrom told BBC's Today program. "It has already happened in for instance Portugal, a full member of the European Union, which decriminalized under the existing international treaties. The same sort of thing is being talked about across the world."
Drug prohibition had proven its futility, Brunstrom argued. "We're still causing something like £20bn worth of damage to our society every year," he said. "More than half of all recorded crime is caused by people feeding a drugs habit. The government wants evidence-based policy; the evidence is very clear that prohibition doesn't work, it can't work, an enforcement-led strategy is making things worse, not better."
His was a minority opinion, Brunstrom acknowledged, but that could swiftly change, he said. "I'm certainly out of step with the majority of senior police officers, but not all of them," he said. "But in terms of society, public attitudes change quite rapidly and you need look no further than drinking and driving: in the space of my lifetime drinking and driving has gone from being socially acceptable, almost the norm, to being socially unacceptable."
It's not like Brunstrom came out of nowhere. As early as February 2004, Brunstrom was irking fellow cops by telling interviewers drug prohibition "does more harm than good," and he was back at it just a few weeks ago when he issued a report calling for legalization in response to the government's ongoing drug strategy consultation.
But this time he really seems to have hit a nerve. Perhaps it was because he went beyond merely calling for legalization to make claims about the lack of harmfulness of ecstasy that went beyond the pale in the eyes of some. The remarks came as Brunstrom complained of "scaremongering" about drugs, and he pointed to ecstasy as a case in point.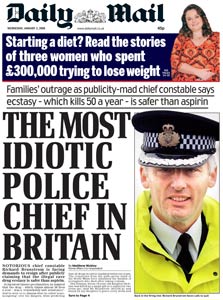 "Ecstasy is a remarkably safe substance -- it's far safer than aspirin," he said. "If you look at the government's own research into deaths you'll find that ecstasy, by comparison to many other substances -- legal and illegal -- it is comparably a safe substance."
"Mr. Brunstrom should resign. His comments are increasingly incompatible with his position," Peter Stoker of the National Drugs Prevention Alliance told the UK Press. "The danger from illegal drugs isn't just a question of how poisonous it is in the short-term -- although any dose of ecstasy can kill -- it includes the damaging behaviour which people are sucked into and the harm it does to those around them, particularly their families."
Nor was Brunstrom winning support from his Member of Parliament. Rhondda MP Chris Bryant said Brunstrom had "extraordinary" opinions and an "obsession" with publicity. "I think these are very dangerous views," he told the BBC. "Ecstasy is not a safe drug and the people who sell ecstasy to youngsters in the Rhondda also sell heroin and the whole shooting range of drugs. Drugs have been one of the major challenges that the Rhondda has had to face since the mines closed." Bryant added that he believed "all drugs are dangerous."
The tabloid newspaper The Daily Mail, meanwhile, was busily fanning the flames of hysteria by featuring Brunstrom's photo on its front page and calling him "the most idiotic police chief in Britain." Given the source, perhaps he should be honored.