The US Supreme Court agreed Monday to rule on whether police may search a parked vehicle whenever they arrest a driver or passenger. Since a 1981 Supreme Court decision that held that police may search a vehicle for weapons when they arrest an occupant, most courts have held that police have ample authority to search vehicles after an arrest.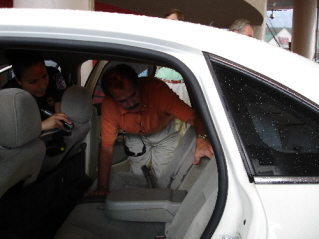 But in a case from Tucson, the Arizona Supreme Court disagreed in the case of Rodney Gant. Police surveilling a suspected drug house arrested him on an outstanding warrant for driving without a license after he pulled up in his car. Gant was handcuffed and placed in the back of a police car. Officers then searched his vehicle and found a gun and a bag of cocaine.
In a 3-2 decision, the Arizona Supreme Court threw out the evidence, saying that the post-arrest search of his car violated the Fourth Amendment's ban on unreasonable searches and seizures. With Gant handcuffed in the back of a squad car, police faced no danger from any weapons hidden in the vehicle, the majority said. Because police did not initiate contact with Gant before he got out of his vehicle, the search of his vehicle was not incidental arrest and thus unconstitutional. Police could have obtained a search warrant if they could convince a magistrate they had probable cause, the court noted.
Arizona Attorney General Terry Goddard appealed to the US Supreme Court last fall, arguing that the Arizona Supreme Court decision sets "an unworkable and dangerous test" that would confuse police, prosecutors, and judges. He was backed by other law enforcement agencies and associations, including the Los Angeles district attorney's office and the National Association of Police Organizations.
The case, Arizona v. Gant, will be argued this fall.