Phillip S. Smith, Writer/Editor
Forty years ago, some 11,000 women were imprisoned in the United States. By 2004, that number had skyrocketed to 110,000, and if you add in the women in jails on any given day, the number of women behind bars is around 200,000 -- many, many of them on drug charges.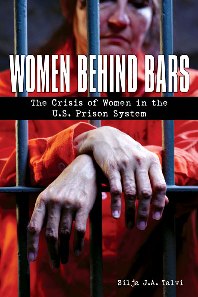 While the overall US prisoner population has rapidly increased over the past few decades, the growth in the number of women behind prison far surpasses the overall rate. Yet most studies of the US prison and jail systems focus on the much larger male prisoner population. That's something investigate journalist Silja Talvi hopes to redress with "Women Behind Bars," and she has done an outstanding job of it.
Visiting numerous prisons -- not only in the US, but also, for comparative purposes, in Canada, England, and Finland -- and conducting hundreds of interviews with prisoners, guards, and advocates, as well as perusing the academic literature, Talvi has constructed a portrait of the US criminal justice system's treatment of women that is a harsh indictment of not only our prisons, but also the culture that perpetuates the resort to mass incarceration as a response to social problems.
It is not easy reading. After all, who wants to read about women prisoners being sexually harassed and raped by guards, who wants to read about prison wings full of mentally disturbed women prisoners screaming incessantly or rubbing feces on their cell walls, who wants to read about women prisoners committing suicide after being locked into cell-like "suicide prevention" rooms seemingly designed to drive them over the edge? Who wants to read about some of the weakest and already most brutalized members of our society who turn to dope or prostitution (or, too often, dope and prostitution), only to be imprisoned for their "crimes"?
It's an ugly subject, and that's part of the problem. Nobody wants to think about our world-leading prison population or the agonies we inflict upon it. In fact, our prison system is geared to shutting them up behind grey walls hidden from the public eye and, hopefully, from the public consciousness. But Silja Talvi is determined to rip the scales from our eyes and force us to look at what we have wrought.
She does so with verve, grace, and humanity. Not only does Talvi bring a keen critical intellect to bear, she also gives voice to the voiceless, standing aside at times to let the women prisoners of America speak for themselves. Their tales of suffering are heartrendingly grim, sometimes seeming as if they were coming from the seventh circle of Hell. The treatment of mentally ill women prisoners is a scandal. The use of female prisoners as sexual playthings by corrupted prison guards is another.
All too many of those stories are because of the decades-long, relentless escalation of the war on drugs. For many reading these words, the story of the imprisonment juggernaut created by the drug war legislation of the 1980s and nurtured by political inertia ever since is an already familiar tale. But Salvi tells it again, eloquently and passionately. We meet women like Amy Ralston, who suffered in prison for more than a decade because she wouldn't rat out her estranged husband , and Regina White, a black woman from South Carolina doing 12 years after crusading pro-life prosecutors charged her with manslaughter for doing cocaine while pregnant -- even though there was no evidence linking her child's death to her drug use.
Talvi offers a harsh critique of the policies and practices that generate thousands of new women prisoners on drug charges, many of them only spouses or girlfriends of the law's actual targets. All too often, Salvi notes, these women end up doing more time than the real culprits even if they had little or no involvement in any drug conspiracies. Prosecutors routinely make conscious decisions to charge them as co-conspirators and send them up the river for years or decades despite knowing that the women are small change. It is a cruelty and cynicism that makes even the hardened heart weep.
Talvi isn't a prison abolitionist; she argues that there are indeed some people who need to be behind bars, but that that number is a tiny fraction of those who actually are, especially women. But she is ready to take on the drug war, sex laws, and other freedom-sucking laws and practices: "I personally would prefer to see the decriminalization or legalization of drug use, the legalization of all forms of consensual sex (including prostitution), far more opportunities for truly therapeutic intervention, prevention- and intervention-minded counseling, real vocational education, and a regular and fair parole review," she writes.
Her book, a cry from heart, will hopefully help hasten that process. We should all hope so, for as the Russian novelist Dostoyevsky once famously noted, "A society should be judged not by how it treats its outstanding citizens, but by how it treats its criminals." As it should be, for we are all complicit in this by our silence.
In fact, as I ponder this, I am reminded of another quote, this one from a freedom-loving radical in our national past. "I tremble for my country when I reflect that God is just." That was Thomas Jefferson. He's probably been spinning in his grave for so long, there's nothing left by now.
Maybe, just maybe, Silja Talvi will help save us from ourselves by forcing us to help those we victimize the most. Let's hope lots of people read this book and take its lessons to heart.
(Copies of Women Behind Bars are available as part of our latest membership offer.)