Both the Ohio House and Senate voted this week for a bill, HB 215, which will, among other things, make salvia divinorum and its active ingredient, Salvinorin A, a Schedule I controlled substance with penalties the same as those for heroin, cocaine, or psychedelics. Gov. Ted Strickland is expected to sign the bill into law shortly.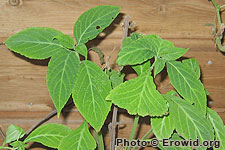 The Ohio bill was sponsored by Rep. Thom Collier (R-Mount Vernon) after an incident where a 12-year-old Loudonville boy was shot and killed by another boy who had smoked the herb, a fast-acting, short-lived hallucinogenic member of the mint family. But while Collier repeatedly cited that tragic incident, as the
Columbus Dispatch
noted: "There was no direct evidence, however, that the shooting was drug-related."
If Strickland signs the bill as expected, Ohio will be the sixth state to ban salvia outright, treating it as a proscribed substance. A handful of others, most notably California, have moved to restrict its sales, especially to minors.
While the Masatec Indians of Mexico have used the plant for religious purposes for centuries, it is only within the past few years that its psychedelic properties have become widely known among inner explorers and youthful experimenters in the US and elsewhere. Typically, some of those youthful experimenters post their tripped-out experiences on YouTube, where some legislator or drug cop or self-appointed watchdog eventually runs across them and demands that the plant be banned. Legislatures reflexively go along, with the ban bills typically passing with no organized opposition and by large majorities, as in this week's 90-4 Ohio House vote.